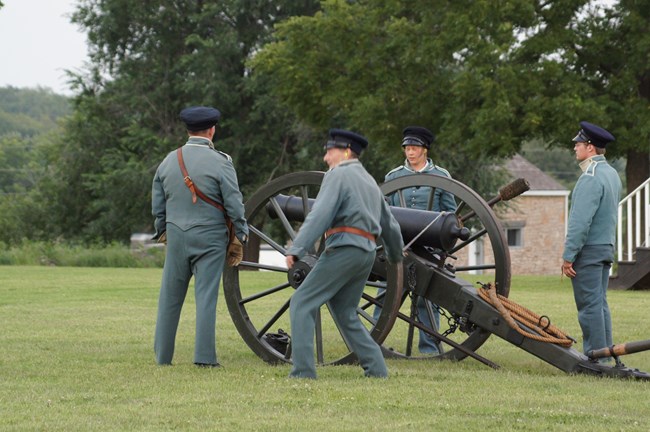 Evening Cannon Firing Concludes Three Day Celebration of Our Nation's Independence at Fort Scott National Historic Site
Volunteers and staff of Fort Scott National Historic Site invite you to come and join us
in a celebration of our nation's independence for an Old Fashioned Military Holiday. A cannon firing at dusk, children's games, and free ice cream and cake are just a few of the activities
offered Saturday, July 4, Sunday, July 5 and Friday, July 10.
Come and mingle with soldiers, laundresses, and officers wives representing garrison life of the 1840s. Test your skills as you take part in the fun of competing in historic games.The bark of cannon and gunfire will be heard throughout the day as artillery programs will pay honor to our
freedom. Listen as Ranger Robert Thomas provides a rousing patriotic speech followed by a 30-gun salute honoring the 30 states in the Union in 1848.
Saturday's programs begin at 10:00 a.m. with "Vegetable Gardening at Frontier Forts: A Forgotten Story". Much has been written about life at a frontier fort. The fort vegetable garden--which played an important role--is seldom mentioned. Learn about the importance of gardening on the frontier in this program presented by volunteer Jan Elder.
Since our inception as a unit of the National Park Service, over 1,750,000 visitors have
visited the site. To commemorate this milestone, join us at 2:00 p.m. Saturday for some homemade ice cream and cake provided by The Friends of Fort Scott NHS, Inc. While enjoying cake and ice cream, be entertained with "The Many Faces of Freedom" Tableau. America has often
been called a melting pot. A variety of people have come to call it home and to seek opportunity. Many stories of diverse people can be found at Fort Scott.This stirring program highlights the tapestry of people that helped build the community of Fort Scott and transform
America in the process.
A variety of programs offered on Sunday, July 5 feature Fort Scott's role in some of the most pivotal events in American history. "Diversity on the Fort Scott Frontier" focuses on the multi-layered concept of slavery that encompassed differing ideas, evidenced by Bleeding Kansas, but also of occupations not related to military work on the frontier. There were those who were enslaved and freed, soldiers and non-soldiers, people that uplifted the community and those whose
quest was to bring it down through conflict. Nevertheless, the story of the history of Fort Scott was a microcosm of greater Kansas and American history.
The 1850s, immediately before the Civil War, was a tumultuous time for America;having newly acquired vast territories. The nation would now have to organize them and decide once and for all if they would be free or slave.Yet the debate was not a simple issue of right or wrong, equality or slavery. Come examine the many factors that were in play during westward expansion, Bleeding Kansas, and the Civil War with "A Peculiar Institution: The Politics of Slavery in 1850s America."
On Friday, July 10, a special evening cannon firing will symbolize a military salute to "Old
Glory" by soldiers of the 1840s army. Learn the symbolism of this artillery piece to American Indians and the meaning of the term "the gun that shoots twice" while witnessing the power of the Mountain Howitzer during a ceremonial firing at dusk.
A full schedule of activities and talks for each day is listed below:
Saturday, July 4
10:00 a.m. –Vegetable Gardening at Frontier Forts:

A Forgotten Story

11:00 a.m. –Guided Tour

12:00 p.m. –Let the Games Begin –Historic Children's Games

1:00 p.m. –30 Gun Salute –Small Arms Firing Demonstration

2:00 p.m. –The Many Faces of Freedom –Tableau Program

3:00 p.m. –The Gun That Shoots Twice –Artillery Demonstration

4:00 p.m. –Flag Retreat
Sunday, July 5
10:00 a.m. –The Gun That Shoots Twice –Artillery Demonstration

11:00 a.m. –Guided Tour

1:00 p.m. –Diversity on the Fort Scott Frontier

2:00 p.m. –The Gun That Shoots Twice-Artillery Demonstration

3:00 p.m. –A Peculiar Institution: The Politics of Slavery in 1850s America

4:00 p.m. –Flag Retreat
Friday, July 10
8:30 p.m. –Cannon Firing at Sunset