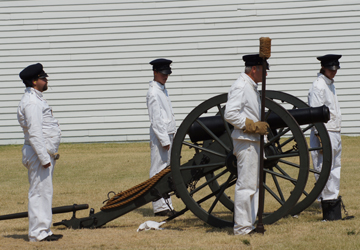 John Adams, one of our nation's founders, said of the 4th of July, "I am apt to believe that it will be celebrated by succeeding generations as the great anniversary festival…it ought to be solemnized with pomp and parade, with shows, games, sports, guns, bells, bonfires, and illuminations, from one end of this continent to the other, from this time forward for evermore."Fort Scott National Historic Site proudly continues this tradition and invites you to come and join us in celebrating our nation's independence with an Old Fashioned Military Holiday.Cannon and musket firings, children's games, and ice cream are just a few of the free activities offered Saturday, July 2, Sunday, July 3, and Monday, July 4.
On Saturday, living history will be featured, so come and mingle with soldiers, laundresses, and officers' wives as they present garrison life in the 1840s. The bark of cannon and crack of gunfire will be heard throughout the day as artillery programs pay honor to our freedom.At 2:00 p.m., enjoy a cup of homemade ice cream provided by the Friends of Fort Scott NHS, Inc. as Ranger Robert Thomas provides a rousing patriotic speech followed by a 30-gun salute honoring the 30 states in the Union in 1848.Join our Grice family volunteers on July 2nd and 3rd for candle making and children's games. The Grices make hand-rolled beeswax candles and dipped tallow candles made from beef fat, just like they were made at home in the mid-19th century. They will also demonstrate traditional toys and games of the era, like the whip top, peg top, flipper, marbles, graces, jacks, nine pins... and more.
Activities will continue on Sunday and Monday with additional artillery demonstrations and programs focused on various historical events associated with Fort Scott.
Would you like to attend the Centennial Grand Ball in September but think you have nothing to wear? Does your spouse/mate/date use the excuse: "I don't have anything to wear!" Join volunteer Dee Young on Sunday, July 3, at 1 p.m. for "Ball Attire 101: Creative, Affordable Clothing for the NPS Centennial Grand Ball!"Dee will share some simple ideas of how to prepare for the upcoming Grand Ball to be held on Labor Day weekend. Bring items you may currently have (prom dresses, evening gowns, wedding gowns, etc.) and she will discuss how they might be modified to make you the "Belle of the Ball." If you have lace, lace curtains/tablecloths, ribbons, and the like, bring them with you. Even if you feel clueless, come get ideas of what to look for as well as ideas for tweaking items you might find in your closet. This is your chance to make the Grand Ball experience stress free and purely an enjoyable and memorable occasion!
On Monday, July 4, at 11 a.m., Dr. Jeremy Tewell will present "A Self-evident Lie," a program examining the extent to which Civil War-era Northerners and Southerners agreed with the proposition that "all men are created equal." While some pro-slavery supporters denounced the Declaration of Independence as a "self-evident lie," some Northerners, most notably Abraham Lincoln, held that the only effective safeguard to individual liberty was universal liberty. Lincoln and others argued that as long as Americans believed that all men, at least in principle, were endowed with such inalienable rights of life, liberty, and the pursuit of happiness, everyone's liberty would be self-evident, regardless of social standing or circumstance.
The schedule of activities is listed below:
SATURDAY, JULY 2
10:00 a.m. –"Load, Ready, Fire" –Artillery Firing Demonstration

11:00 a.m. –Guided Tour

1:00 p.m. –"Let the Games Begin" –Historic Children's Games

2:00 p.m. –"The Union Forever" –Patriotic Speech and 30 Gun Salute

3:00 p.m. –"Bleeding and Purging" –1840s Medicine

4:00 p.m. –Flag Retreat
SUNDAY, JULY 3
11:00 a.m. –Guided Tour

12:05 p.m. –"Load, Ready, Fire" –Artillery Firing Demonstration

1:00 p.m. –"Ball Attire 101" –Creative, Affordable Clothing for the Centennial Ball

2:00 p.m. - "Let the Games Begin" –Historic Children's Games

3:00 p.m. - "Load, Ready, Fire" –Artillery Firing Demonstration
MONDAY, JULY 4
10:00 a.m. - "Load, Ready, Fire" –Artillery Firing Demonstration

11:00 a.m. –"A Self-evident Lie" –Civil War Interpretive Program

12:05 p.m. –"Load, Ready, Fire" –Artillery Firing Demonstration

1:00 p.m. –Guided Tour

2:00 p.m. - "It's a Grand Old Flag:History and Traditions of the Stars and Stripes"

3:00 p.m. - "Load, Ready, Fire" –Artillery Firing Demonstrat