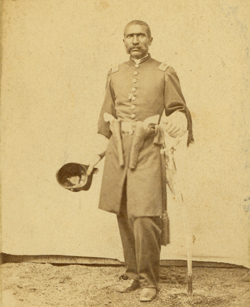 During the Civil War, Kansas was the first Union state to recruit, train, muster and send African American soldiers into combat. The First Kansas Colored Volunteer Infantry was the first African American regiment to be recruited from a northern state and the first to defeat the Confederates in combat. January 13, 2013 will be the 150th anniversary of the federal muster of this unit which was sworn into service on the parade grounds at Fort Scott.
In commemoration, Fort Scott National Historic Site will offer a special program on Saturday, January 12 at 2:00 p.m. in the site's library. Retired NPS historian Arnold Schofield will offer the keynote address about the formation of the First Kansas Colored. The program will also honor an African American officer with the unit, Captain William D. Matthews, with a dramatic reading of events from his life's story. Matthew Wells, a park volunteer, will play period music. Additionally Park Ranger Barry Geertsen will give a talk about the Emancipation Proclamation, which became official on January 1, 1863, and paved the way for the mustering in of the unit 12 days later. The program will last approximately one hour and is open to the public. There is no fee for the program or for visitation to the site -which is open daily from 9 am-5 pm.
One item of note is that it was the story of the 1st Kansas that convinced Congress to authorize funding for the site in 1965, the same year that civil rights legislation was passed. This story will also be briefly addressed during the program. This program is one of many planned to commemorate the Civil War sesquicentennial.
For more information, call 620-223-0310.