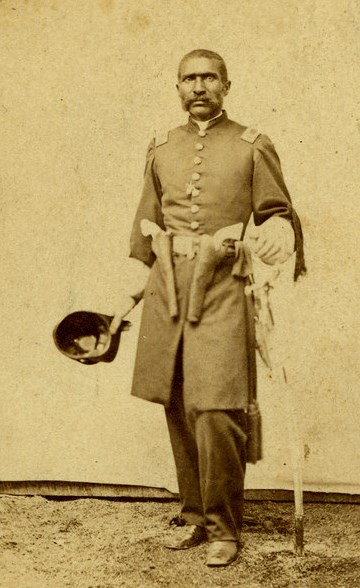 They Fought Like Tigers! This was the phrase applied to the 1st Kansas Colored Infantry Regiment as a result of its first combat experience.Soldiers in the Army of Freedom is a recently published book that focuses on the story of these courageous men.The author of that book, Ian Michael Spurgeon, willbe hosting a book signing and a presentation based on his research during a brown bag luncheon, offered appropriately during Black History Month (February). Visitors are welcome to bring a lunch to eat while attending this program, which will be held in Fort Scott National Historic Site's Grand Hall on February 12, 2016 at 12:00 pm.Books to be signed are available for purchase in the site's visitor center.
The First Kansas Colored Infantry, mustered into federal service on the grounds of Fort Scott NHS, was the first black regiment raised in a northern state, and the first black unit to see combat during the Civil War. Soldiers in the Army of Freedom is the first published account of this largely forgotten regiment and, in particular, its contribution to Union victory in the Trans-Mississippi theater of the Civil War. As such, it restores the First Kansas Colored Infantry to its rightful place in American history. Composed primarily of former slaves, the First Kansas Colored saw major combat in Missouri, Indian Territory, and Arkansas. Ian Michael Spurgeon draws upon a wealth of little-known sources—including soldiers' pension applications—to chart the intersection of race and military service, and to reveal the regiment's role in countering white prejudices by defying stereotypes.
Spurgeon holds a Ph.D. in history from the University of Southern Mississippi. He is currently a historian in the World War II division of the Defense POW/Missing Personnel Office in Washington, DC.He has written articles on U.S political, military and African American history.