Distance Learning
Supplies, Survival, and Success: Civil War Quartermaster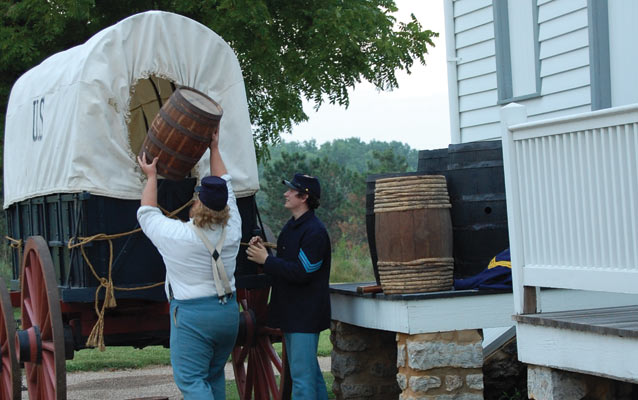 As a supply depot, Fort Scott served soldiers fighting in Kansas, Missouri, Arkansas, and the Indian Territory (Oklahoma) with rations, weapons, and clothing. The U.S. Army accumulated tons of supplies at this southeast Kansas post. Wagon loads of war material rolled into and out of Fort Scott. Protecting these vital supply trains became one of the important functions of military units stationed here.
To store the supplies until needed, the Army built a wide range of new buildings in Fort Scott, which helped fuel the town's economic growth both during and after the war. To the west of town, the Army built a wood and coal yard, and to the southeast, troops constructed a forage yard, corn cribs, and a hay press. The Army rented other buildings, taking most of the town's available space. The local newspaper noted that the town felt for want of room, because "every house in the town" was "being filled with Uncle Sam's property."
 In this lesson, your class will learn about the role that Fort Scott played as a wartime Army supply depot and the logistics involved in transporting, storing, and distributing those supplies. The class will then compare that to modern supply delivery methods. During this lesson, class members will have the opportunity to gain insight and appreciation of the critical role of supply functions in both historic and modern times.
You can download the teacher's guide for this program by following this link.
How to Participate
Reserve a time by calling 620-223-0310 or by emailing the site's education coordinator Barak V. Geertsen at least four weeks in advance to assure staffing availability. Classes must be able to connect using either Polycom or via webbased videoconferencing using GoToMeeting. Program is 50 minutes in length,
Details
Subject:

Civil War, Transportation

National/State Standards:

Kansas Social Studies Standards Four and Five
Missouri Social Studies Standards Two and Six


Keywords:

Civil War

type:

Distance Learning