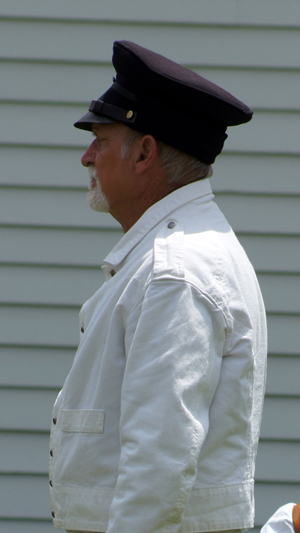 For the past five years, Fort Scott National Historic Site has obtained funding to implement a Teacher-Ranger-Teacher program. The site has again obtained funding for a Teacher Ranger Teacher for 2015. This is a professional development opportunity that lasts six to eight weeks.
The site has identified a need to expand its distance learning educational programs. Currently the site's distance learning programs all focus on the Civil War. The site has been averaging a couple of distance learning programs a month. With the Civil War Sesquicentennial coming to a close, there is a need to expand our offerings. In preparation for the 175th anniversary of the establishment of Fort Scott, we have identified a need to develop distance learning programs that address Fort Scott in the 1840s.
The Teacher Ranger Teacher this summer will identify one or two programs that will help us tell the stories of Fort Scott in the 1840s to remote audiences.These stories include those of Indian removal, forced relocation, westward expansion and Manifest Destiny, the Mexican American War and its effects on modern relations between the U.S. and Mexico, These topics are currently interpreted in school programs, but further work is required to adapt them into lessons that can be delivered to remote locations.
The TRT will develop atleast one distance learning program, and prepare it to be advertised on the education portal and on the Center for Interactive Learning website.The TRT will also develop a lesson plan related to the chosen topic that educators canteach in their own classroom. Participation in the Teacher Ranger Teacher program would allow the site to offer quality programming utilizing technology and up-to-date educational techniques to underprivileged youth in the region and beyond. With funding for field trips being cut back at many schools, the need for development of a stronger outreach program that employs technology has increased.
Besides their main duties, the TRT would receive training in park operations and interpretive skills so that they will be able to spend some time in visitor contact situations. This type of training would enhance the candidate's NPS experience. The candidate would also receive training in the black powder program so that they could have the experience of being on the artillery crew if so desired.
In past years, interns have also been involved in our Trailblazer program, which is a week long day camp for area youth. During this workshop, youth engage in a series of activities designed to introduce them to Park Service values of stewardship, protection, preservation, and education.
The advantage to the candidate's school district would be the teacher bringing back their experiences with them and creating a connection between the site and the district, benefiting both mutually through enhanced educational opportunities for the school district and offering a new perspective on Fort Scott NHS's programs and offerings.
Applications are being taken until May 30, 2015.
Teacher Ranger Teacher application.Word File or
Teacher Ranger Teacher application PDF File