Civil War to Civil Rights Trading Cards
Kids, collect stories about the American Civil War and the Civil Rights Movement—learning about these monumental events in our nation's history along the way! The National Park Service is offering more than 500 digital/online trading cards to mark the 150th anniversary of the Civil War.
You can see what digital cards are available from Fort Raleigh National Historic Site below, or view all the National Park Service Civil War to Civil Rights Trading Cards online and discover stories from nearly 90 national parks in 31 states and the District of Columbia. You might just be surprised at what you learn!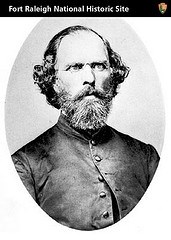 Horace James
Setting Up a Model Community
An ardent abolitionist, James, a Union army chaplain, arrived on Roanoke Island, North Carolina in February 1862 and was soon appointed to manage escaped slaves. James tirelessly raised funds and acquired building materials and land for, and designed, the Freedmen's Colony on Roanoke Island. Under James, the colony became a model for other Freedmen communities.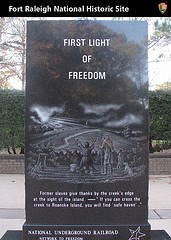 First Light of Freedom
Remembering a Safe Haven
This memorial is a remembrance of the 1863 Roanoke Island Freedmen's Colony—a place of safe haven for escaped slaves. Local descendants of the colony helped dedicate the memorial in 2001. Their ancestors made the passage to freedom and started a new life at this colony.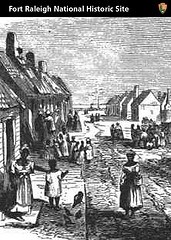 Freedmen's Colony
1863-1867
Formed by military order, the Freedmen's Colony on Roanoke Island, North Carolina became a model of Freedmen's Colony organization. At its height, the colony boasted a street grid system, steam-powered sawmill, fishery, and six schools attempting to give its 3,000 residents the skills needed for the future. Colony descendants still reside in the area.
The Battle Of Roanoke Island
First Battle of the Burnside Expedition
Roanoke Island, a linchpin in the Confederate control of eastern North Carolina, was attacked by Federal forces on February 7, 1862. Following a naval bombardment, Union troops, led by General Burnside, stormed the island on February 8, capturing almost 3,000 Confederates. This first serious victory helped raise a flagging Union spirit.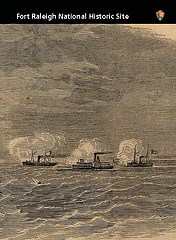 The Mosquito Fleet
The Little Fleet that Couldn't
A collection of tug-boats, sailing schooners, and other light draft ships, the Confederate Navy's Mosquito Fleet scored impressive early victories in the North Carolina sounds. When attacked near Roanoke Island by the Union Navy in February 1862, the seven lightly armed Confederate ships fell easy prey to Union gunboats. All but one was sunk or captured.
Last updated: December 12, 2018