Lesson Plan
The First Visit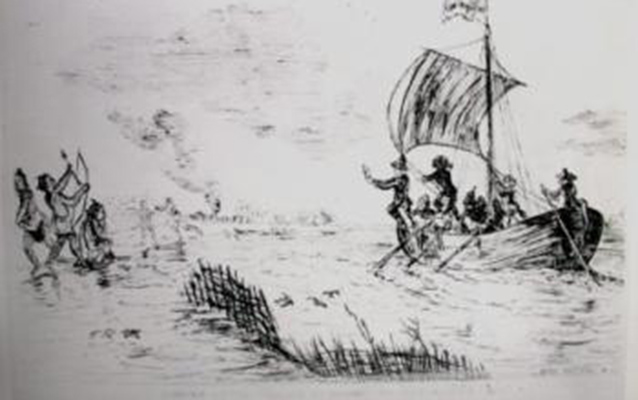 Grade Level:

Fourth Grade

Subject:

American Indian History and Culture, Colonial History, History, Naval History

Duration:

45 minutes

Group Size:

Up to 36

Setting:

classroom

National/State Standards:

National Standard for History:
Topic 2: Standard 3
Topic 3: Standard 5
North Carolina State Standards
4.H.1.1, 4.H.1.2, 4.H.1.3, 4.H.2.1


Keywords:

colonization, Roanoke Island, Fort Raleigh, 16th Century Exploration
Overview
In 1584, Walter Raleigh funded his first voyage to the New World after being granted the patent from Queen Elizabeth I and quickly set about seeking a location for his future colony. His explorers not only located Roanoke Island quickly, but had their first important interaction with the Native Algonquians in the area.
Objective(s)
The Learner will:
Gain an understanding of England's first glimpse of the New World
Explain the interaction between the Native Algonquians in the area and the Englishmen 
Examine the benefits of the location of Roanoke.  
Procedure
Download pdf of lesson plane located in upper right section of this page
Park Connections
Fort Raleigh National Historic site is the location of the first English colony in America.
Additional Resources
http://faculty.history.wisc.edu/sommerville/361/361-19.htm
https://www.nps.gov/fora/forteachers/piracy-and-privateering-with-elizabethan-maritime-expansion.htm
https://www.nps.gov/fora/forteachers/the-first-english-colony.htm
http://www.princeton.edu/~achaney/tmve/wiki100k/docs/Elizabethan_era.html
Last updated: April 14, 2015