Date:
April 8, 2011
Contact:
Gloria Lee
, (912)786-5787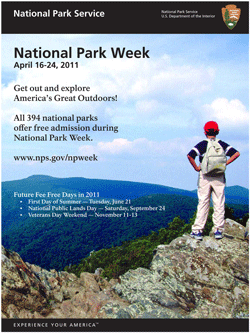 Celebrate National Park Week at Fort Pulaski
Savannah, GA – National Park Week 2011 celebrates "Healthy Parks, Healthy People". America's 394 national parks offer many close-to-home opportunities for outdoor recreation. The growing connection between public lands and public health is the focus of this year's National Park Week. Entrance to all national parks is free throughout the week, from Saturday, April 16 to Sunday, April 24.
In addition to waiving entrance fees for this nine-day period, Fort Pulaski is offering programs as part of National Park Week festivities.
On Saturday, April 23, kids will be the special guests for the fifth annual Junior Ranger Day. Fort Pulaski will offer a special Junior Ranger tour, which will allow participants to satisfy all site requirements for the Junior Ranger program. At the end of the tour, the new Junior Rangers will be sworn in and will receive special Junior Ranger patches.
This year, Fort Pulaski is participating in Earth Day on Friday, April 22. For over 40 years, Earth Day has served as an opportunity to showcase our Nation's care and concern for the environment and to emphasize the importance of conserving resources.  
Fort Pulaski National Monument is the site of a nineteenth-century fort used during the American Civil War, but the park is more than just the fort. The park is home to a variety of animals living on over 5,000 acres of marshland. The park also includes diverse plant life.  
The park's Earth Day event will feature a Healthy Living Community Information Fair from 10:00 AM to 4:00 PM. Other tentative activities being planned for the day are "Yoga in the Park", "Children's Earth Day Story Time", and guided hikes on the park's nature trails.
Earth Day Schedule of Events - April 22, 2011

Junior Ranger Day Schedule of Events - April 23, 2011