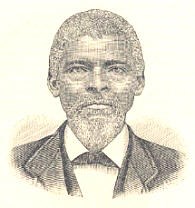 March Haynes was born a slave in Pocataligo, S. C., March 4, 1825. As a young adult, Haynes was elected a deacon of the Wilmington Baptist Church in 1849 by the Rev. Jack Watry. Still in bondage, Haynes was later removed to the Savannah area in 1858, but was able to become a member of the First African Baptist Church of Savannah.
Following the fall of Fort Pulaski in April 1862, Union General David Hunter's Gen. Order No. 7 allowed for the emancipation of slaves in coastal Georgia. However this freedom could only truly be enforced at Fort Pulaski and on Cockspur Island. During this period March Haynes became a successful recruiter and smuggler of fugitive slaves. He is credited in putting many of his race over on the Union side, where they enjoyed freedom.
However, during one attempt to move some of his people out of Savannah to the the safety of Union soldiers at Fort Pulaski, Haynes encountered the enemy who commanded him and his faithful few to halt. He was terribly wounded in the scuffle but survived to carry out more missions.
Haynes soon became involved in reconnaissance for the Union Army, conducting numerous missions into the heart of Savannah to uncover Confederate troop movements and area camps. The missions also served as an opportunity to help more slaves escape from bondage in Savannah to freedom at Fort Pulaski.
Following the war, Haynes, now a free man, retired to a quiet life in Savannah, becoming a deacon in the First African Baptist Church in 1877.
History of the First African Baptist Church, from its organization, January 20, 1788 to July 1, 1888. E. K. Love, The Morning News Print, 1888.