John Wesley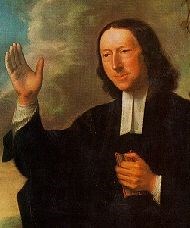 John Wesley, founder of Methodism, landed on Cockspur Island in 1736. During his stay at Cockspur, Wesley engaged in theological discussions which later formed what we call Methodism. Wesley's journal records:
"...about eight in the morning I first set foot on American ground. It was a small uninhabited island...over against Tybee, called by the English Peeper Island. Mr. Oglethorpe led us through the moorish land on the shore to a rising ground,...we chose an open place surrounded with myrtles, bays, and cedars, which sheltered us from the sun and wind, and called our little flock together to prayers."
The above quotation is inscribed on the Wesley Monument within Fort Pulaski National Monument. The monument is a simple brick column set on a limestone base.
Although Wesley spent less than two years in Savannah, he established the first Protestant Sunday School and wrote the first hymnal used in Georgia.
Wesley's departure from Savannah to his native England was unplanned. He left Georgia a very disappointed man. His plans to preach God's word to the natives never materialized. Wesley also became a man of great controversy in the new settlement. His love affair with the Chief Magistrate's niece further isolated him from the citizenry.
Georgia Society, Colonial Dames of America
Last updated: April 14, 2015