Casimir Pulaski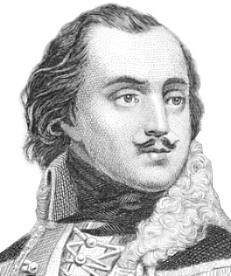 Casimir Pulaski is remembered in many ways. In Poland, he is remembered as a man who fought for freedom on two continents, and is given the title "Soldier of Liberty." In the United States, numerous streets, bridges, counties, and towns are named for him in honor of his aid to American forces. In Savannah, Georgia, a large monument commemorates his sacrifice fighting for the city during the American Revolution. Above all, he is the man who provided the American colonists with their first true legion on horseback, cementing his place as "The Father of the American Cavalry."
Born on March 6, 1745, at Warka on the Pilica, Poland, he was the middle of the three sons of Josef Pulaski. He came from a family of knightly traditions. The Pulaskis took part in the victorious wars by King John III Sobieski against the Turks in the 17th century.
By age 21, Casimir Pulaski proved to be a true military talent, fighting in battles across the European continent. By 1776, Pulaski learned of America's struggle for independence and offered his services to the cause. Pulaski arrived in Boston in July 1777. Pulaski would serve next to George Washington who appreciated Pulaski's vast military experience. On September 15, 1777, the American congress promoted Pulaski to the rank of Brigadier General in command of cavalry.
Pulaski quickly distinguished himself at Brandywine, where he covered the retreat of Washington's troops, preventing a total rout. Pulaski gained more success at Germantown.
In May, 1778, Pulaski began to form an independent cavalry unit that would be known as the Pulaski Legion. Comprised of Americans, German, Frenchmen, Irishmen, and Poles, the legion would see immediate action in October along the New Jersey coast. The Pulaski legion would later guard the northern border of Pennsylvania before heading south.
In May 1779, the Pulaski Legion helped defend Charleston, South Carolina against the British. The following months the legion engaged in reconnaissance and guerrilla warfare in South Carolina.
By the fall of 1779, the Pulaski Legion headed toward Savannah, Georgia in an effort to join other French and American troops in an attempt to retake Savannah from the British. In the attack on October 9, 1779, American and French forces fell short of retaking the city. Pulaski was also mortally wounded by grapeshot and would die two days later aboard the American ship Wasp on route to Charleston. Pulaski was then reported to have been buried at sea near the place where the Savannah River flows into the Atlantic.
In 1833, the new fort being constructed on Cockspur Island outside of Savannah was christened Fort Pulaski in honor of Casimir Pulaski.
Last updated: April 14, 2015