Lesson Plan
Fort Scavenger Hunt for Grades 5-6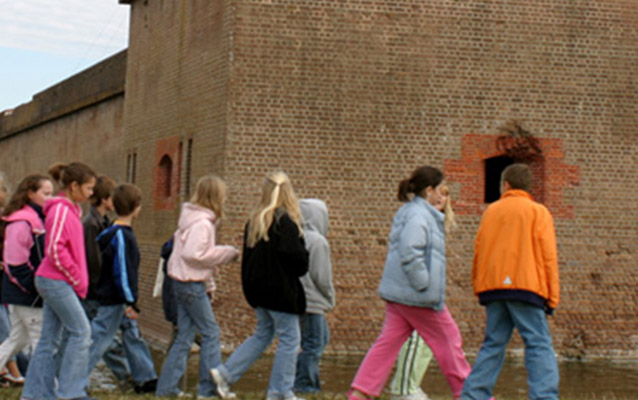 Grade Level:

Fifth Grade-Sixth Grade

Subject:

Civil War, History, Military and Wartime History, Social Studies

Duration:

30-45 minutes

Group Size:

Up to 36

Setting:

in the park

National/State Standards:

Georgia Performance Standards/Common Core
Social Studies SS5H1
English Language Arts ELACC5SL1, ELACC5SL1d, ELACC5RI1, ELA5RI3, ELACC6RI1, ELACC6RI3, ELACC6SL1

Keywords:

Civil War
Overview
In this teacher-led activity, the scavenger hunt functions as an interactive, self-guided fort tour for students. The student worksheet requires them to answer several questions as they visit various locations inside the fort.
Objective(s)
At the end of this activity, students will be able to:
1) Name at least three pieces of equipment used by Civil War soldiers.
2) Describe the outcome of the battle for Fort Pulaski.
3) Identify at least one artifact that is protected at Fort Pulaski.
Background
Fort Pulaski was completed in 1847 to defend Savannah from foreign invaders. Capable of mounting more than 120 cannons, the fort was strategically located at the mouth of the Savannah River to intercept enemy ships. While stationed at Fort Pulaski, the soldiers lived, worked and practiced in the fort. Ships kept the fort regularly supplied with food, clothing, medicine and military equipment. The fort saw one battle--during the Civil War in 1862. About 400 Confederate soldiers inside the fort were defending it against Union soldiers firing long-range cannons from Tybee Island. The new Union cannons were able to pound two holes in the corner of the fort. When the Union cannon fire threatened to blow up the fort's powder magazine, the Confederates surrendered.  
Procedure
Print the lesson plan, student worksheets and pre-visit vocabulary list from the pdf file on the park website.

If you want to borrow clipboards and/or compasses from the park, notify the park in advance at 912-786-5787, extension 1207.

Bring your students to the drawbridge outside the fort. The lesson begins here.
Follow the instructions on the lesson plan, which will guide your group around the fort.
Have the students fill out their answer sheets as they progress through the fort.

Be sure your students are on their best behavior, appropriate for a national monument and military site. There should be no climbing on the cannons, no running or wild horseplay, no standing or sitting on the outside walls at the top of the fort, and no wild yelling or screaming.
Assessment
The teacher can review the student worksheets to assess their success in learning about Fort Pulaski.
Vocabulary
Breach--a hole or large gap.
Magazine--A room designed to hold gunpowder and ammunition.
Casemate--a large and strong room that holds a cannon.
Last updated: February 12, 2019