Guided Tours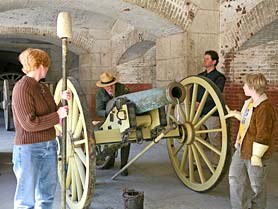 The following programs are provided free of charge. However, because of possible changes in programming please contact us or consult the sallyport program board for program updates.
For curriculum based education programs for schools groups, please refer our Education page for details.
Self-Guided Tour:
Take a look around Fort Point at your own pace! Interpretive panels throughout the facility allow you to learn more about the fort and its history.

Fort History Tour:
Join a ranger near the front entrance of Fort Point for a tour! Learn about the soldiers' lives at Fort Point, the fort's unique architecture, the defenses of the Golden Gate and lots more. Tours are scheduled daily at 11 am and 3 pm and typically last 30 minutes. Staff availability may affect these tour times, please inquire upon arrival.
Guardians of the Golden Gate Video:
This 17-minute video can be seen in the theater adjacent to the Fort Point Bookstore. This short documentary video will provide you with an understanding of the history of Fort Point.
Building the Golden Gate Bridge Video:
This 28-minute video, produced by the Bethlehem Steel Company, is an interesting look into the construction of the Golden Gate Bridge. Unlike other videos about the bridge, this video not only contains footage taken during construction, but relates the story of the steel company and construction workers that built the bridge.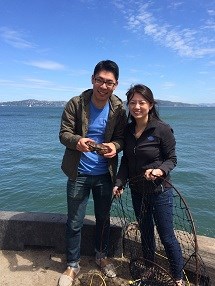 Seasonal Programs
Please be advised that the following programs do require reservations in advance. For some, reservations should be made at least a month ahead due to limited space availability.
Pier Crabbing Demonstration
Months available: TBD, check back soon!
Available Days: TBD, check back soon!
Join the Fort Point Rangers to learn more about some of the Fort's more salty visitors! Meet at the entrance of the Warming Hut to learn the secrets of capturing San Francisco's most elusive crustaceans during this hands-on program. We will discuss ideal crab habitat, equipment, and San Francisco's regulations for crab fishing. Then, you can try your luck with our nets! Please bring a bucket if you would like to keep any legal crabs you may catch.

Pier Crabbing Lotteries for 2019 to be announced at a later date.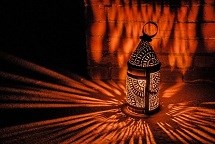 Fort Point Candlelight Tour
Months available: TBD, check back soon!
Available Days: TBD, check back soon!
Join a Fort Point ranger for a tour in a different light! Along the way, you'll be transported to the momentous era of the 1800's, experiencing first-hand the tales and valiant stories that grace the halls of this unwavering guardian, watching diligently over the treasured Golden Gate.
Due to limited space for this program, reservations are required. Reservations are limited to no more than six per group. Appropriate for ages 10 and up.

Stay tuned for information on Candlelight Tours for Winter 2018/2019.


Last updated: May 14, 2019