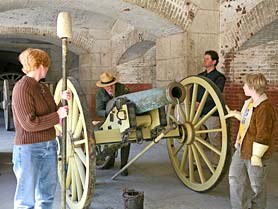 The following programs are provided free of charge. However, because of possible changes in programming, please contact us or consult the sallyport program board for program updates.
For curriculum based education programs for schools groups, please refer our Education page for details.
Self-Guided Tour:
Take a look around Fort Point at your own pace with a booklet available at the fort that provides information about the fort and its history.

Fort History Tour:
Join one of the Fort Point docents near the front entrance of the Fort for a tour. Learn about the soldiers' lives at Fort Point, the Fort's unique architecture, the defenses of the Golden Gate, and lots more. Tours typically last 30-minutes. Scheduled tour times are subjected to change, check with staff upon arrival for next available program.
Guardians of the Golden Gate Video:
This 17-minute video can be seen in the theater adjacent to the Fort Point Bookstore. This short documentary video will provide you with an understanding of the history of Fort Point.
Building the Golden Gate Bridge Video:
This 28-minute video, produced by the Bethlehem Steel Company, is an interesting look into the construction of the Golden Gate Bridge. Unlike other videos about the bridge, this video not only contains footage taken during construction, but relates the story of the steel company and construction workers that built the bridge.