Traveling on the National Road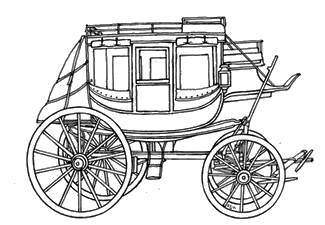 The opening of the National Road saw thousands of travelers heading west over the Allegheny Mountains to settle the rich land of the Ohio River Valley. Small towns along the National Road's path began to grow and prosper with the increase in population. Towns such as Cumberland, Uniontown, Brownsville, Washington and Wheeling evolved into commercial centers of business and industry. Uniontown was the headquarters for three major stagecoach lines which carried passengers over the National Road. Brownsville, on the Monongahela River, was a center for steamboat building and river freight hauling. Many small towns and villages along the road contained taverns, blacksmith shops, and livery stables.
Taverns were probably the most important and numerous business found on the National Road. It is estimated there was about one tavern every mile on the National Road. There were two different classes of taverns on the road. The stagecoach tavern was one type. It was the more expensive accommodation, designed for the affluent traveler. Mount Washington Tavern was a stagecoach tavern. The other class of tavern was the wagon stand, which would have been more affordable for most travelers. A wagon stand would have been similar to a modern "truck stop." All taverns regardless of class offered three basic things; food, drink, and lodging.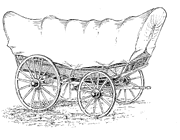 Traffic
During the heyday of the National Road, traffic was heavy throughout the day and into the early evening. Almost every kind of vehicle could be seen on the road. The two most common vehicles were the stagecoach and the Conestoga wagon. Stagecoach travel was designed with speed in mind. Stages would average 60 to 70 miles in one day.
The Conestoga wagon was the "tractor-trailer" of the 19th Century. Conestogas were designed to carry heavy freight both east and west over the Allegheny Mountains. These wagons were brightly painted with red running gears, Prussian blue bodies and white canvas coverings. A Conestoga wagon, pulled by a team of six draft horses, averaged 15 miles a day.
Last updated: February 26, 2015