Field Trips
How Children Learned in the Past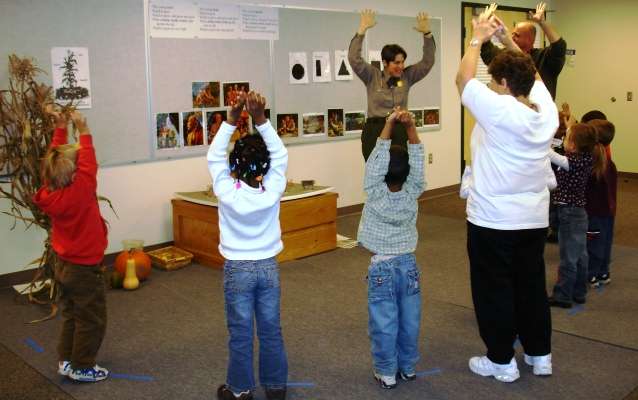 Description
The students will learn how American Indian children learned in the 1750s and how children learned in a 1840s one-room school. The field trip consists of two 30-45 minute guided programs. In the "How American Indian Children Learned" program the children will see a model of an American Indian village, learn a song about the three main crops the American Indians planted and plant their own garden to bring back to school. The students will also learn about the importance of wampum and use plastic beads to make a wampum bracelet. In the "How Children in a One-room School Learned" program the children will don small vests or aprons over their street clothes. Then they are ushered into the one-room school setting. They use slates and chalk, count with an old-fashioned "counting picture," and play with the "Jacob's Ladder" toy.

The park also has a picnic area where students can eat lunch, or if the weather is cold the children can eat on the floor in the lobby. Everyone enjoys the park's playground.

 

Before visiting the park you may want to familiarize your students with some of the local history present in the Background Information for the "How Children Learned in the Past" field trip.

 

This program is free. These tours are offered weekdays in the spring and in the fall. Please contact the park to check availability by emailing the staff or by calling (724) 329-8124.
Details
Subject:

American Indian History and Culture, Education, Family Life

National/State Standards:

Nat'l Standards for History: K-4: Standard 1, 2, 3. Curriculum Standards for Social Studies: I, II, III, V. Common Core: CCSS.ELA-Literacy SL.K.1, CCSS.ELA-Literacy SL.K.3, CCSS.Math.K.CC. B.4, CCSS.Math.K.CC.B.5, CCSS.Math.K.G.A.1, CCSS.Math.K.G.A.2.

type:

Field Trips