Field Trips
Travelers and Workers Along the National Road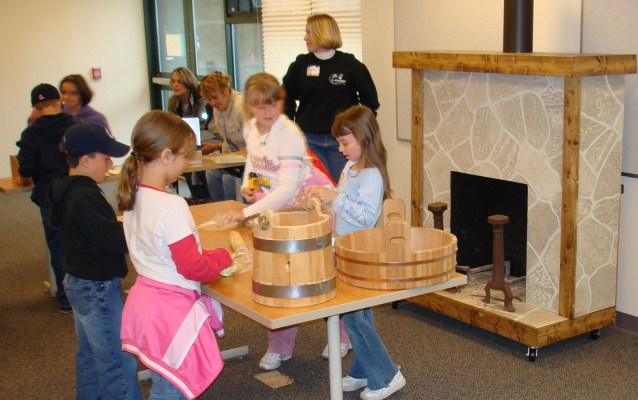 Description
Traveling and working in the 1840s was much different than today. This program helps students learn about travel and travel accommodations on the National Road.
This guided program has the students participate in two activities. They go on a 1 hour guided tour of the Mount Washington Tavern where they pretend to ride a stagecoach, try-on old-time clothes and learn about the rooms from "voices from the past." The students also participate in a 1 hour workshop where they do the tavern chores; washing the laundry, counting the money, making the biscuits and cleaning the horse stalls.
Many groups also decide to walk self-guided to Fort Necessity, eat lunch at the picnic area, go on a tour of the museum exhibits and visit the park's bookstore.
This program is offered the last week of April and the first week of May, and weekdays in the fall. Up to four classes of 28 students may participate at one time. The program is free of charge.  Please contact the park to check availability by emailing the staff or by calling (724) 329-8124.
Pre-visit and Post-visit Lessons
To prepare your students for a visit please complete the pre-visit lesson The National Road. After your visit consider teaching the post-visit lesson Travels and Transportation on the National Road or the lesson Meals and Places to Stay Along the National Road. These and all the other lessons in the teacher's guide "Traveling the National Road" are available on line. You may also call to request a hard copy or a copy on CD-ROM.
Logistics of Planning a Field Trip
To learn about the logistics of bringing a class to Fort Necessity please read Planning a Successful Field Trip.
Details
Subject:

Commerce and Industry, Community, History, Transportation

National/State Standards:

National Standards for History: k-4 Standard 1, 2, 3. Curriculum Standards for Social Studies: II, VII, VIII.  Common Core State Standards: CCSS.ELA-Literacy SL.1, CCSS.ELA-Literacy SL.3.

type:

Field Trips