Field Trips
Three Cultures in Conflict at Fort Necessity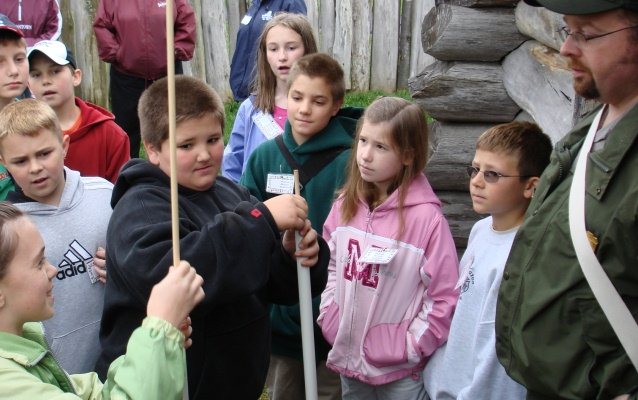 Description
Three very different cultures came into conflict over trade and land, sparking the Battle at Fort Necessity which had important ramification on our nation's history. This program helps the students learn about the French, the British and the American Indians; and the circumstances that led to war.
This guided program has the students participate in two activities. They go on a 1 hour guided tour to the reconstructed fort where they participate in a mapping activity and learn that George Washington was short on supplies. The students also participate in a 1 hour workshop where they discover how the French and British interacted with the American Indian through the fur trade. The students identify furs, identify tracks, unscramble the musket firing steps, plant gardens and grinding corn to learn about the American Indians in the 1750s. They "earn" furs that they can then use to trade with the British or French.
Many groups decide to also see the park's film "A Road of Necessity," eat lunch at the picnic area, go on a tour of the museum exhibits and visit the park's bookstore.
This program is offered weekdays in the spring and the fall. Up to four classes of 28 students may participate at one time. This program is free of charge. Please contact the park to check availability by emailing the staff or by calling (724) 329-8124.
Pre-visit and Post-visit Lessons
To prepare your students for a visit please complete the pre-visit lesson Forks of the Ohio which is in Unit 1 of the Teacher's Education Kit "The French and Indian War 1754-1763." After your visit consider teaching the post-visit lesson Fort Necessity Surrender Document which is in Unit 3 of the Teacher's Education Kit. All eight units of this Teacher's Education Kit are available on line. They are also available in a printed format or on a CD. If you would like either of these formats please email the staff.
Logistics of Planning a Field Trip
To learn more about the logistics of bringing a class to Fort Necessity please read Planning a Successful Field Trip.
Details
Subject:

American Indian History and Culture, Economics, French and Indian War, U.S. Presidents

National/State Standards:

National Standards for History: k-4 Standard 2, 3, 4; grade 5-12 Era 2, 3. Curriculum Standards for Social Studies: I, II, III, VI, VIII. Common Core State Standards: CCSS.ELA-Literacy SL.1, CCSS.ELA-Literacy RI. 1.

type:

Field Trips