Field Trips
Self-guided Field Trip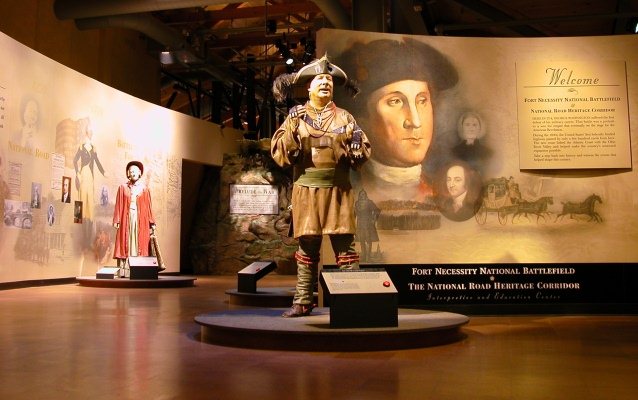 Description
Visiting Fort Necessity is a great way for your students to learn history. Your class may participate in the following activities while visiting the park on a self-guided field trip.
- View the orientation film about George Washington, the Battle at Fort Necessity and the National Road (20 minutes)
- Walk to the reconstructed fort reading the outdoor signs or using the cell phone tour
- Visit the 1830s stagecoach stop, the Mount Washington Tavern, which is now a furnished museum (open April through October)
- Experience the museum exhibits on the French and Indian War and the National Road
- Shop in the bookstore/gift shop
- Eat at the picnic tables located right outside the visitor center
Please contact the park to make a reservation. Schools that offer students academic credit and visit the park to teach the students about the park's resources may be eligible for an academic fee waiver of the park's entrance fee. Fee waivers are sent to you once you have scheduled a visit.
Logistics of Planning a Field Trip
To learn more about planning a self-guided field trip please read Planning a Successful Field Trip.
Details
Subject:

American Indian History and Culture, Colonial History, Economics, French and Indian War, Military and Wartime History, Pioneer America, Transportation, U.S. Presidents, Westward Expansion

type:

Field Trips