Date:
June 18, 2012
Contact:
Jane Ahern
, 215.597.0865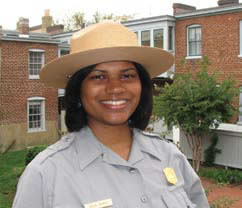 This week, Fort Monroe National Monument welcomes 11-year National Park Service (NPS) veteran Eola L. Dance as the park's first chief of visitor services and resources management. The position supervises and manages the interpretive and education programs and natural and historic resource protection. Prior to taking her post at Fort Monroe, Dance was a cultural resources specialist at National Capital Parks.
"I'm pleased be involved in the early planning stages of Fort Monroe, a place dear to me as early as I can remember," said Dance. She brings a wealth of knowledge related to the American Civil War, Emancipation, and Civil Rights.Dance was born at Langley Air Force Base in Hampton, Virginia, where her father was a lieutenant colonel, and is a graduate of Kecoughtan High School in Hampton."My father having worked at Fort Monroe for 22 years, afforded me many opportunities to run and play on the parade grounds," recalled Dance. "I enjoyed swimming lessons at the YMCA and Officers Club, special occasions at the gazebo, just about anything important in my life happened here."
"Ms. Dance's work in the fields of interpretation and resource management in the National Park Service make her just the right person for Fort Monroe," said Superintendent Talken-Spaulding."Her ties to the community here in Hampton run deep and her enthusiasm and interest in helping build a strong park for this and future generations is a key to the park's success."Dance has worked in management positions at Maggie L. Walker National Historic Site (NHS), Fort Washington Park, the Fort Circle Parks, Frederick Douglass NHS, and Mary McLeod Bethune Council House NHS.
Dance began her career in the NPS when she was recruited through the Student Career Program upon graduation from Louisiana's Southern University and A&M College in 2001. She pursued extended studies at George Mason University and Howard University in museum studies and public history.Dance is currently a master's student in historic preservation at Savannah College of Art and Design. She spends her free time exploring the outdoors with her two sons Alan and Eli. She enjoys running 5K races and practicing yoga with colleagues and friends.