Date & Time

04/01/2017 6:00 PM to 8:00 PM

Fee Information

Regular Fee

Contact Us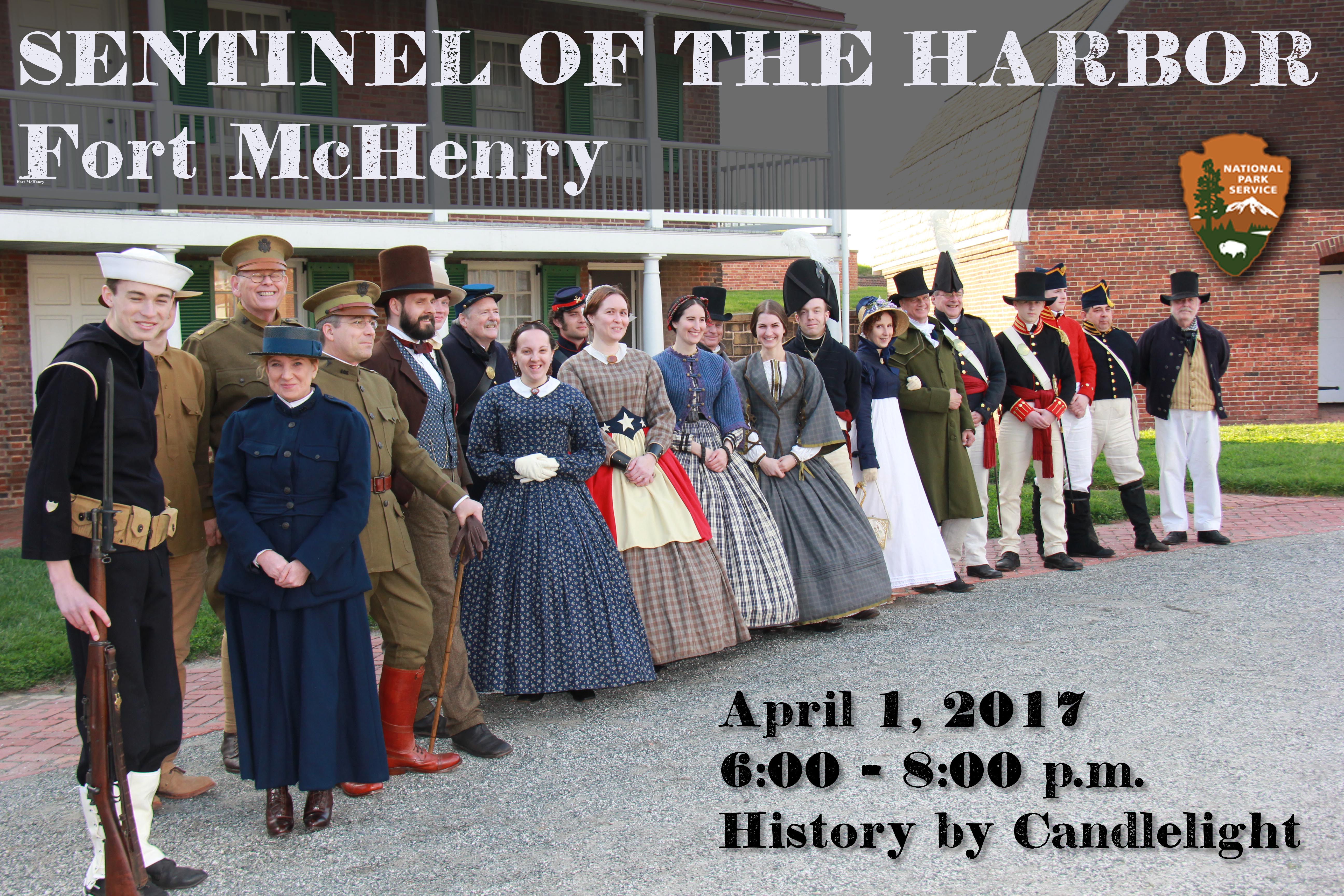 On Saturday April 1, 2017 Fort McHenry National Monument and Historic Shrine will offer special evening tours as part of the Light City Baltimore Festival. Visitors are invited to experience over 200 years of history and learn how Fort McHenry has watched over the city and her port through special living history presentations and a guided candlelight tour.  Evening tours will run every 10 minutes beginning at 6:00 p.m. and concluding by 8:00 p.m.
 
Tours begin in the Visitor and Education Center and the first stop will be the Pride of Baltimore II to learn about the history of the developing port city of Baltimore and the clipper ships that made her privateers famous. On the way to the Historic Star Fort, visitors will encounter soldiers from the American Revolution era preparing defenses for the city, the Old Defenders made immortal by their defense of the city during the War of 1812, innovative artillerists from the Mexican War, Union soldiers and Confederate sympathizers from the Civil War, recuperating Army soldiers from World War I, and U.S. Coastguardsmen from World War II.
 
Each tour stop will highlight an era of Fort McHenry's long history as the sentinel watching over Baltimore through the "perilous fight" of 1814 and decades of nights thereafter. Tour presenters will showcase how different generations of Americans connected with "The Star-Spangled Banner" over time. 
By the flickering candlelight, National Park Staff and living history volunteers will bring to life the stories of the Fort in a way that is engaging and immersive as part of the innovative, city-wide Light City Festival.  See the Civil War era prison cells, hear the clack of the typewriter of the World War I officers' quarters, smell the campfire that the 1814-era soldiers are gathered around and experience the Fort's history in a new "light".
 
Visitors may also explore the exhibits and feature movie in the Visitor and Education Center before their tour.
 
Tours will begin at 6:00 p.m. Space is limited so reservations should be made online at http://www.friendsoffortmchenry.org/upcoming-events.html Payment for tours will be collected at the Visitor and Education Center. Fee is $10 per adult (age 16 years and up). America the Beautiful National Parks Passes are also accepted.

Update:
 
Online Reservations Close at 5pm Friday, March 31. You may come to the Visitor Center at the event start time and see if space is available. First come, first serve.