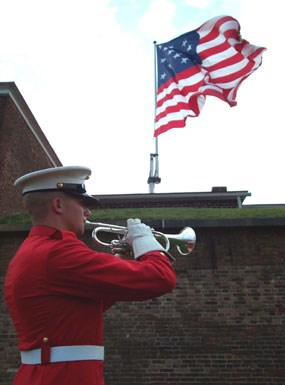 Be part of one of the oldest ceremonies in Baltimore City! Over 100 years ago, Baltimore residents spent Saturday evenings watching the military review of soldiers at Fort McHenry. That tradition lives on today on selected weekend evenings with the free twilight tattoo ceremonies at Fort McHenry. Every ceremony ends with the folding of the great 30 x 42-foot Star-Spangled Banner flag and the firing of the fort's large evening gun.
Twilight Tattoo Ceremony and Concert
Saturday, August 4, 6:00 - 8:00 p.m.
Music along the Patapsco!
This evening's tattoo focuses on the role of martial music during Fort McHenry's History. The program compares concert music with stirring sounds of the fife and drum. Hear the Chesapeake Concert Band play favorites from John Philip Sousa, the "Fort McHenry Guard March" and their own "Fort McHenry March!" They will be joined by our own Fort McHenry Fife and Drum Corps. Well-versed in pieces from both the War of 1812 and the American Civil War, the Fort McHenry Fife and Drum Corps is the true sound of early Nineteenth Century fife and drum music. Following the concert, the garrison of the fort will perform the evening muster as it was done during the War of 1812. Every tattoo concludes with the playing of "Taps" and the firing of the fort's evening gun.

U.S. Navy to Commemorate Bicentennial Battle!
Saturday, August 18, 6:00 p.m.
The program begins with a concert by the U.S. Navy Band, Drill Team and Color Guard. This event highlights the 200th anniversary of the famous naval victory of the U.S. frigate Constitution over the British frigate Guerriere. The first major naval battle of the War of 1812, the American ship won fame for the young U.S. Navy as well as the nickname "Old Ironsides." For a flavor of history, the Fort McHenry Guard, representing sailors from the War of 1812 will demonstrate cutlass drill and cannon-firing from the War of 1812.