COVID-19 SERIES- SOAP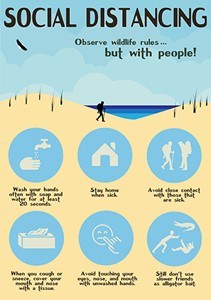 NOW:
The CDC (Centers for Disease Control and Prevention) tells us that one way we can protect ourselves and others during the pandemic is to WASH OUR HANDS!
Their tips:
Wash your hands with soap and water for at least 20 seconds.

Do not touch your eyes, nose, or mouth with unwashed hands.

If soap and water are not available, use hand sanitizer. Cover all surfaces of your hands and rub them together until they feel dry.
THEN:
Soap is also important in the history of Baltimore and Maryland! On this virtual trip, we are going to learn about the women who washed the soldiers' uniforms at Fort McHenry and the people who made soap and had uniforms at Hampton Plantation.

Free black and white women were the very first female government contractors to work at Fort McHenry and their job was washing uniforms. While we think of this time as one where women had few rights, many women ran their own businesses, headed households, wrote, fought for change, and made better lives for themselves and their families. In the late 1700s and throughout the 1800s, Baltimore City had the largest free black population in the country. Slavery was still a horrible reality in the city, but many black individuals and families owned property, ran their own businesses, led churches, and helped freedom seekers (men and women escaping indenture or enslavement to pursue the basic human right of freedom). Free black women worked at Fort McHenry and ran their own laundry businesses out of their own homes—some indentured themselves to learn a trade, such as Grace Wisher, whose family indentured her to a flag shop (another female-owned business). Grace was one of the needlewomen to create Fort McHenry's flags. (For more on Grace's story, see the
6 Feet of Separation
page.)

Only a few miles away, in Baltimore County, at Hampton Plantation, running a business or owning property seemed out of reach for hundreds of enslaved men, women, and children, even though some of them actually ran operations at the dairy, the farm and in the household. At Hampton, the story of soap is a story of using every resource and rising from the literal ashes. Rather than soldiers' uniforms, the clothing washed at Hampton showed the world what kind of job you were forced to do, what possessions you owned and could demand on obtaining freedom.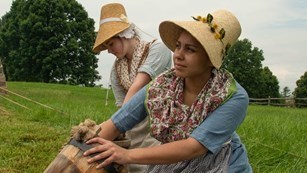 Suggested curriculum BEFORE your in-class visit: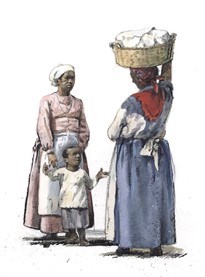 SOAP Guiding Questions
What must it have been like in a world before washing machines and dryers, when people only had a few outfits? Can you imagine the sights and smells?

Using ash from the fireplace is an early example of recycling. Can you think of other ways that people might have recycled at Hampton Plantation?

Do you think the Ridgely family used lye soap, or might they have used a different product to clean themselves? Why do you think so?

Do you think the washerwomen at Fort McHenry were treated with respect? After all…they could mess those uniforms up!

Do you think Lucy Jackson might have had some power for the same reasons—she was responsible for making the household run smoothly, so it was also in her power to make the household run not so smoothly….

Why do you think Lucy sued the Ridgelys to get her clothing back and why do you think the Ridgelys said they had already had her clothing returned to her?
SOAP Brainstorming (Develop Questions for Your In-Class Visitor)
What are your reactions to these stories?
What did you notice or wonder about?
What do you need help in understanding?
What do you want to learn more about?
Which site do you want to send our visitor to?
What do you want to see at that site? (Buildings, rooms artifacts-tools, clothing, furniture, documents, landscape-gardens, fields, harbor.)

Please submit AT LEAST three questions to us so we can prepare for your virtual visit. Depending on the number of questions, we may not have time to answer all of them in the session. There are two solutions to this exciting problem:
You have the option to schedule another visit.

The visitor/guide can email you with further responses, pictures and links to help answer any questions we didn't get to in class.
Link to In-Class Virtual Visit Form
To learn more about Fort McHenry, Hampton, and any of the topics developed in this virtual field trip, please consult the
Educational Resources for Digital Learning
page.
Last updated: February 27, 2021