Curricula
"The Rockets' Red Glare": Francis Scott Key and the Bombardment of Fort McHenry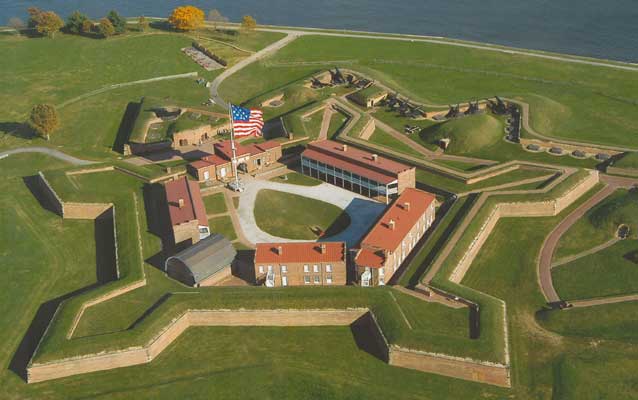 Teaching with Historic Places Lesson Plans
The man standing on the deck of the sailing ship had opposed the war. Now he watched helplessly as ships of the greatest navy in the world rained shot and shell on the little fort protecting the city of Baltimore, Maryland. He found he cared very much about the outcome. The bombardment had lasted for more than 24 hours. He strained to see through the morning mist. What he saw was a huge flag, big enough to show the enemy that the fort had survived. Francis Scott Key was overcome by "joyful triumph" and began to jot words down on a piece of paper: "O say can you see . . . ."
Key wrote his poem in 1814, in the last year of the War of 1812. The United States had declared war on Great Britain in June 1812. At first, the British were too busy fighting the French to devote much energy to the pesky Americans. Once Napoleon abdicated in April 1814, the British set out to teach their former colonies a lesson. In August, fifty ships sailed up Chesapeake Bay. After occupying Washington on August 24, and burning the Capitol, the White House, and other public buildings, the British turned their attention northward. Fort McHenry stood between the British navy and the city of Baltimore. When the fort refused to be subdued, the ships sailed away, to the cheers of the defenders. For many Americans, the War of 1812 was the "Second War of Independence."
Few people remember the War of 1812 today, but the poem it inspired, almost immediately set to music as "The Star Spangled Banner," has become the national anthem of the United States and a potent source of inspiration and community for Americans in times of crisis.
"The Rockets' Red Glare": Francis Scott Key and the Bombardment of Fort McHenry

Table of Contents
About This Lesson

Getting Started: Inquiry Question
Setting the Stage: Historical Context
Locating the Site: Map
Location of Baltimore and Fort McHenry
Determining the Facts: Readings
1. Armistead's Account of the Battle
2. Francis Scott Key and the Writing of "The Star-Spangled Banner"
3. "Defence of Fort McHenry"
4. After the Battle
Visual Evidence: Images
1. Fort McHenry in 1814
2. The Walls at Fort McHenry
3. The Battle of Baltimore
4. "A View of the Bombardment of Fort McHenry"
5. Fort McHenry Today
6. The Star-Spangled Banner Today
7. "Star-Spangled Heart"

Putting It All Together: Activities
1. "You Are There"
2. Debating the War of 1812
3. "The Theme of Our Nation"
4. Whose "Star-Spangled Banner"?
5. Places That Define the Community

Supplementary Resources

Details
Subject:

War of 1812

National/State Standards:

American History, Social Studies, Government, Civics

type:

Curricula
Last updated: February 26, 2015