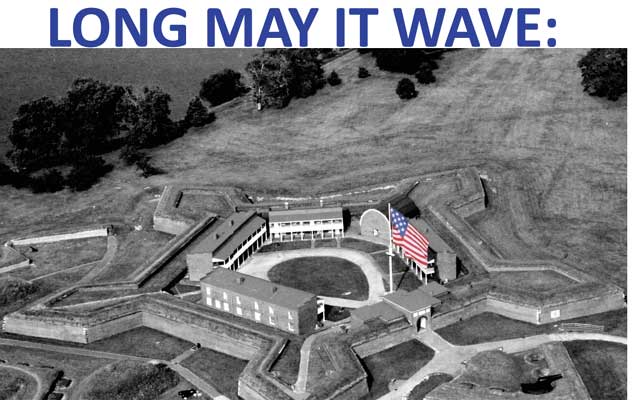 Download National Curriculum for Grades 4 Through 8: Long May It Wave: The War of 1812 & Fort McHenry. To support teachers in Maryland and across the United States as they commemorate the Bicentennial of the War of 1812 in their classrooms, the Friends of Fort McHenry developed a national curriculum on the War of 1812 and Fort McHenry for grades 4 through 8 in partnership with the National Park Service. Download lesson plans that correlate to the Maryland State Curriculum for Social Studies and the Common Core State Standards Initiative and emphasize historical thinking skills. Each lesson plan includes primary source documents and images, student worksheets, and suggestions for accommodations and extensions.

Development of the curriculum has been made possible by generous funding from the National Park Service, Chesapeake Bay Gateways and Watertrails Network. Special thanks also to GWWO, Inc.Architects for its donation of services.


Elementary Lessons
What's In a Name?
Patriot or Pirate?
What Caused the War of 1812?
The Citizens' Defense of Baltimore During the War of 1812
Secondary Lessons
Baltimore - Caught in the Middle (Civil War)
A Just War or Just a War?
Privateers in the War of 1812: Soldiers or Thieves?
Citizens for and Against the War of 1812
Political Cartoons from the War of 1812
British Attacks in the Chesapeake During the War of 1812
Should America Have Gone to War in 1812?
Lessons Adaptable to Grades 4-8
Was the War of 1812 Our Second War for Independence?
The Design of Fort McHenry: The Star Fort
Interdisciplinary Lessons Adaptable to Grades 4-8
Sensory "Star-Spangled Banner" (Language Arts)
Pulley Systems Used at Fort McHenry (STEM)
Cannons During the War of 1812 (STEM)
Supplementary Materials
Defense of Our Nation: Maryland's Role in the War of 1812
Courtesy of Baltimore's War of 1812 Bicentennial Education Committee

Details
Subject:

War of 1812

National/State Standards:

Geography, History, Social Studies

type:

Curricula
Last updated: February 26, 2015