Date & Time

04/28/2018 8:30 AM to 8:30 PM

Fee Information

Free*

Contact Us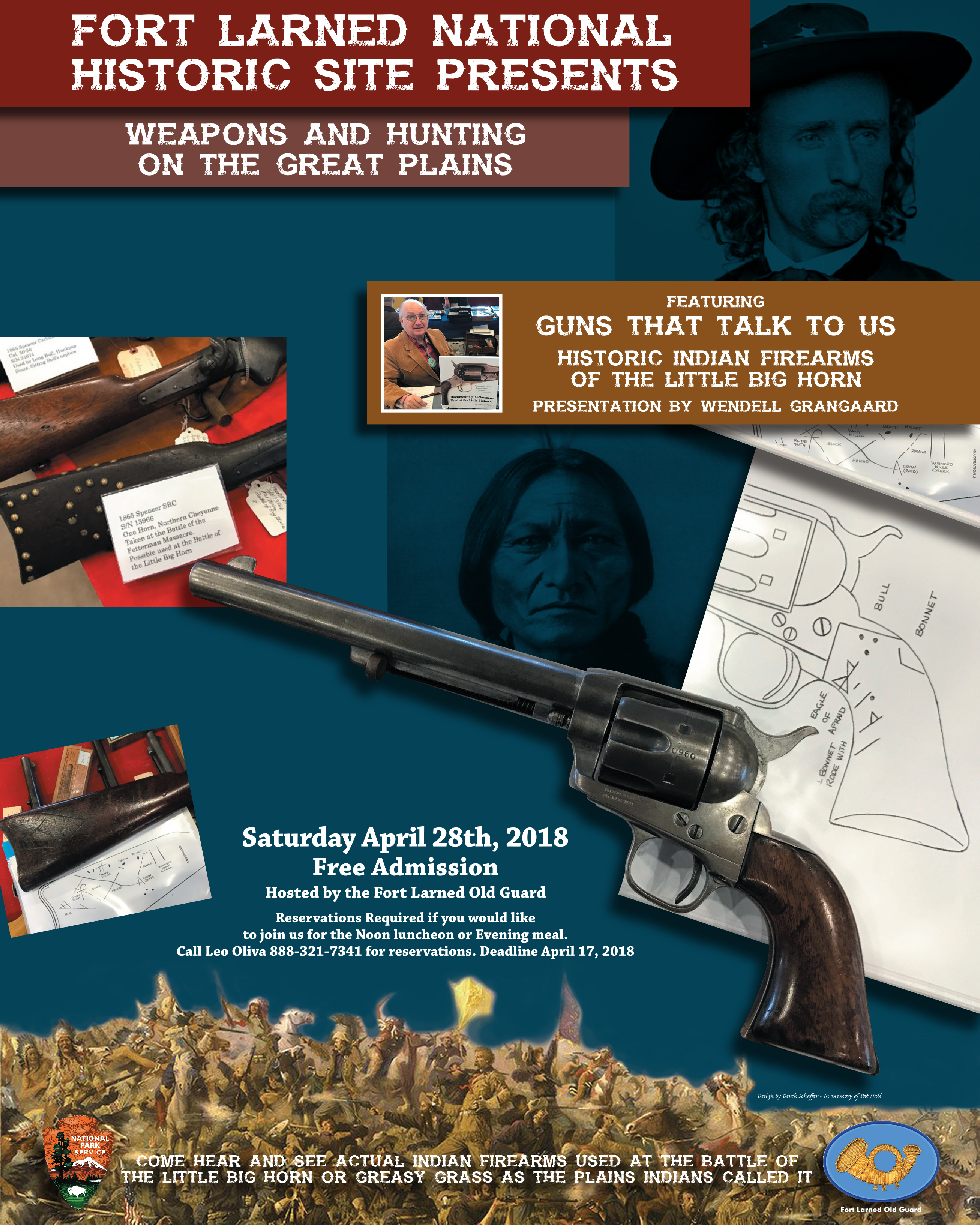 This year's meeting will focus on historic weapons used on the Great Plains by hunters, Indian people, and soldiers. Come hear about and see actual Indian firearms used at the Battle of the Little Bighorn (or Greasy Grass).

*All events are free except the sack lunch and dinner.  Meal reservations must be made by April 17, 2018.  Contact Leo Oliva at 888-321-7341 or oliva@ruraltel.net to make reservations. 
Schedule of Events of the Day
At Fort Larned
8:30-9:30 a.m.: Visit Fort Larned Museum and Buildings
9:30 a.m.:
"Plains Indian Weapons"
- Ken Weidner
10:30 a.m.: Break
10:45 a.m.:
"Military Weapons & Sporting Weapons"
- Mike Seymour & George Elmore
12:15 p.m.:
Sack Lunch
, reservations required (choice of turkey or ham sandwich, chips, fruit, brownie, and bottle of water)
1:00 p.m.:
Weapons Firing Demonstration
1:30 p.m.:
"Bison Hunting on the Plains"
- Leo E. Oliva
2:30 p.m.:
"Women Hunters on the Plains"
- Ellen Jones
3:30 p.m.: Break
3:45 p.m.:
"Bugles and Bugle Calls"
- Sam Young
5:00 p.m.:
Retreat
At Larned Community Center
6:00 p.m.: Dinner at Larned Community Center, reservations required. (Call Leo Oliva 888-321-7341)

7:15 p.m.: Music by Prairie Larkspur (Janet Armstead & Chris Day)

7:45 p.m.: Keynote Speaker - Wendell Grangaard, "Guns That Talk to Us - Historic Indian Firearms of the Little Big Horn"