Buffalo Soldier 150th Commemoration Schedule of Events
April 8 - Buffalo Soldier Encampment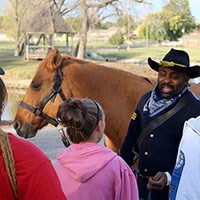 Join Buffalo Soldier re-enactor Jay Clark as he recounts the life and history of Buffalo Soldiers on the Central Plains. There will be two formal programs at 11 am and 3 pm, along with a day long encampment and laundress station.
May 13 - Remington Called Them Buffalo Soldiers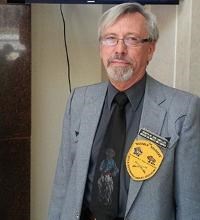 Dr. John Langellier will present a talk based on his book, Fighting for Uncle Sam: Buffalo Soldiers in the Frontier Army. Dr. Langellier's talk will explore western artist Frederic Remington's relationship with the African American troops on the frontier and the evolution of their iconic nickname.
The talk will be in the Visitor Center theater at 1:00 pm followed by a booksigning.
July 4 - Special Day of Kids Activities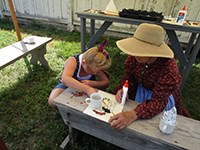 Celebrate our nation's birthday and commemorate the 150th anniversary of the Buffalo Soldiers with a day of activities designed for kids of all ages. Learn about the children of the fort, what it was like to be a soldier, even make your own cavalry guideon to take home. We'll have these programs and more on the 4th of July. Come join us!
Check out the schedule of events for the day.
August 12 - African American Settlement on the Great Plains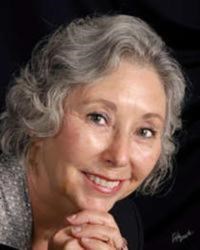 A raw community of ex-slaves created a new community on the Great Plains. Even with settlers like Buffalo Soldier veteran Sam Gardner, it had an uneasy relationship with Fort Hays and the city of Hays, Kansas. Still, African Americans turned Nicodemus into an unlikely Great Plains political powerhouse.
Award-winning novelist and independent historian Charlotte Hinger is the author of several articles and encyclopedia entries on African American history in the West and the novels
Come Spring, Deadly Descent, Lethal Lineage,
and
Hidden Heritage.
The talk will be in the Visitor Center theater at 1:00 pm followed by a book signing.
October 7 - Sweet Freedom's Plains: African Americans on the Overland Trails (Virtual Program)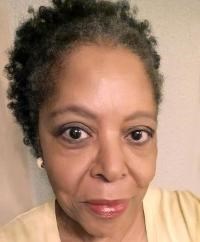 The great migrations of the nineteenth century that brought nearly a half million people westward via a complex of overland trails mark a tumultuous period in American history. Traditional narratives of western migration have tended to homogenize the people who traveled the trails, but in reality, a diversity of peoples trekked the overland routes to the West including African Americans from all walks of life. Black men, women, and children—enslaved and free, civilians and Buffalo Soldiers –were active participants in the transformative events that shaped the nation. However, their reasons for undertaking the journey and their experiences on and off the trails have been largely ignored or minimized.
Sweet Freedom's Plains
places African Americans where they belong—at the center of the western migration narrative.
Dr. Moore will present a virtual discussion of these migrations in the Visitor Center theater at 1:00 pm.
October 28 - Worlds Together, Worlds Apart: Black and White Enlisted Men in the Frontier Army (Virtual Program)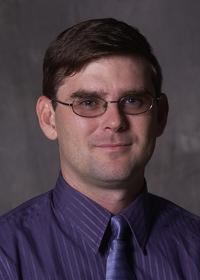 Dr. Adams will use the 1870 census for Forts Dodge and Larned, as well as other frontier military records, to compare similiarities and differences in the post-Civil War military experience of enlisted soldiers. Although these men experienced some of the same conditions based on military service, their could also be significant differences based on a soldier's race.

Kevin Adams is a specialist in the study of War & Society in American history who is most known for his 2009 study of the post-Civil War frontier army, Class and Race in the Frontier Army: Military Life in the West, 1870-1890. A native of California's Central Valley, Adams is currently an Associate Professor of History at Kent State University in Kent, Ohio, where he teaches a wide range of undergraduate and graduate courses.

Dr. Adams will present his talk at 1:00 pm in the Visitor Center theater.
Last updated: June 22, 2017