Life on the Post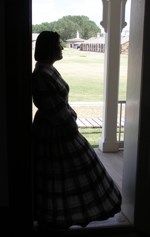 How many men were stationed here?
The fort is designed to accommodate four companies of 100 men each. Over the fort's lifetime, the average number of men stationed here at any given time was between 200-250. The actual number varied quite a bit, and at times was much higher or much lower than the average.
Do you have a list of men who served here?
No. Information on the men who served in the individual companies can be obtained from the National Archives in Washington , D.C. However, we do have several references to men who were assigned to special duty, hospital records, guard house and prison records. We also have the records listing all the companies that were station here.

How many men were in a company?
A company varied in size, containing from 64 to 100 men. However, many times when men were discharged, their positions remained vacant for some time. Desertion and disease reduced the number of men also. Sometimes a company numbered from 35 to 60.
How many officers were there to a company?
There were three commissioned officers per company. One was the captain and the other two were 1st and 2nd Lieutenant. There were also non-commissioned officers such as sergeants and corporals.
Were there any women out here at the Fort?
Yes. A few of the officers brought their wives and families with them. A few of the soldiers might have brought their families with them. There were army laundresses that were part of the army.
Where did the families live? Officers' wives and children stayed in the officers' quarters. Enlisted men's families stayed in adobe/sod houses behind the barracks.
Where did the wagon trains stay?
Wagon trains usually camped near the creek, but off the military reservation, which would be approximately two miles away.
Last updated: April 10, 2015