What is Under the Ground at Fort Larned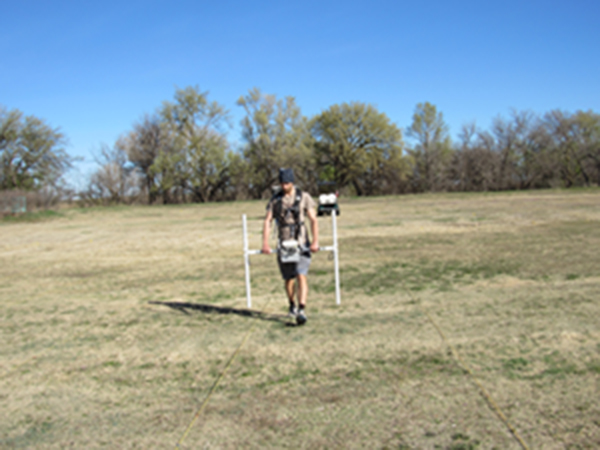 News Release Date:
April 7, 2016
Contact: Visitor Center, 620-285-6911
Not all archeology is about digging things up.Sometimes it's about seeing what's below the surface with special equipment. Some members of the National Park Service's Midwest Archeology Center (MWAC) are at Fort Larned using some of that special equipment to discover what might be beneath ground there. Although the existing sandstone buildings at the fort represent a nearly complete frontier military post, they are actually the core of a more extensive collection of buildings that made up Fort Larned. Other support structures, like the laundress quarters or the old adobe post hospital, surrounded the sandstone buildings. Most of those buildings were constructed of either wood or adobe, and since they apparently weren't used during the ranching period, were either torn down or allowed to decay.
The team from MWAC has come to see if they can find any remaining evidence of where those vanished buildings might have been, by carrying out various geophysical surveys, mainly on the parade ground and the site of the first post cemetery. Their investigations should provide clues about any existing buried archeological features in the ground like building locations, stone outhouse foundations, etc. The survey will also help determine whether any of these features are important to the overall integrity of the fort complex and its history.
Archeologist Steven De Vore, is the project manager, assisted by two Archeological Technicians, Allan Wolfrum and Clare Connelly. They are getting assistance from fort volunteers, and two inmates from the Kansas Department of Corrections. The team will be surveying approximately 16 acres using non-invasive geophysical surveying methods like magnetic, resistance, conductivity and ground penetrating radar. Just like with a regular archeological dig, the site will first be divided up into grids of 20 by 20 meters to accurately document where different finds are located. The team uses surveying equipment to make their grids to ensure precision and accuracy in their placement and measurements.
The different survey methods will provide different types of information on what might be beneath the surface. Magnometers measure the overall magnetic qualities of the earth and can detect variations within the magnetic field, which could indicate below ground features or buried objects. An electric resistivity survey, which is conducted by applying an alternating electromagnetic current to the soil through two probes, measures the ability of soil to resist electric current.Buried features or objects tend to have a measurably different resistance value, which can be used to map their location. Ground penetrating radar uses pulses of radar transmitted into the ground, which are then reflected back to the machine. The signal strength and amount of reflection time gives the archeologist an idea of whether or not underground features or objects are present.
The archeology team started on Monday, April 4th and will be at the fort until Friday, April 15th. If you would like volunteer to help in this important effort to find out more about the history of Fort Larned, please call the Visitor Center at 620-285-6911.
In celebration of the National Park Service Centennial, Fort Larned National Historic Site invites you to discover the meaning of national parks, how your park inspires you - both in personal connections and memorable experiences. Fort Larned National Historic Site is located six miles west of Larned on Kansas Highway 156. Open from 8:30 a.m. to 4:30 p.m., information on visiting is on the internet at www.nps.gov/fols, or by calling 620-285-6911.There is no admission fee.
Last updated: April 11, 2016