Date:
May 2, 2017
Contact:
Superintendent, fols_interp@nps.gov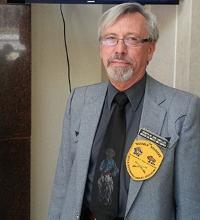 Fort Larned National Historic Site – Fort Larned's second in a series of Buffalo Soldier 150th Anniversary Commemorative events is scheduled for May 13 at 1:00 p.m. in the fort's Visitor Center Auditorium. Dr. John Langellier will discuss his new book, Fighting for Uncle Sam: Buffalo Soldiers in the Frontier Army.  Specifically, Dr. Langellier will recount how the Buffalo Soldiers got their famous nickname with his talk: "Remington Called Them Buffalo Soldiers", which explores the relationship artist Frederic Remington had with these African American troops in the West and the evolution of their nickname.
Today the name Buffalo Soldier usually conjures up images of brave cavalry troopers doing hard duty on the western frontier in the late 19th and early 20th centuries.  Although the units of African American regular Army troops went into the field in 1867, the nickname that now describes them was not used to until at least 1872. There are also two stories about how the nickname came about.  In both instances, it was bestowed by the Plains Indians either because of the resemblance between the men's hair and that of the buffalo, or because of their bison-like tenacity when fighting.
Dr. Langellier will explore the origins of this now legendary nickname for the first units of African American soldiers in the regular U.S. Army. Afterwards he'll be available to sign copies of his book.
Fort Larned National Historic Site is located six miles west of Larned on Kansas Highway 156. Information on visiting is on the internet at the Plan Your Visit page of our website, or by calling 620-285-6911, or email to e-mail us. For information on area tourism partners, lodging, dining, and community services go to www.larnedks.org or call (620) 285-6916.