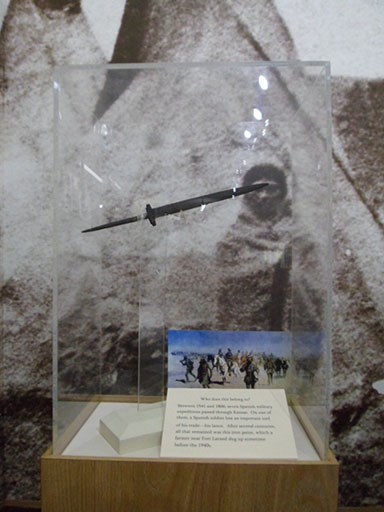 Fort Larned received a generous donation of an authentic Spanish Lance point from Mr. and Mrs. Pat Hall of Hutchinson, Kansas. The Spanish sent many expeditions through the plains between the mid-1500s and early 1800s and several of these expeditions passed through the Larned area. Somewhere along the way one of the soldiers lost his lance and after centuries in the ground all that was left was the iron point, which was dug up by a local farmer in the 1940s.
Vasquez de Coronado led the first Spanish exploration to the Great Plains in 1541. He was looking for a golden city full of riches but all he found were the grass-covered huts of the Wichita Indians near present-day Lyons. He named the village Quivira and then returned to the area around New Mexico, using a route that William Becknell would later follow when he opened the Santa Fe Trail.
There would be no more officially sanctioned expeditions onto the plains until Juan de Oñate, led a group of colonists into New Mexico in 1598. After establishing a new settlement, he would spend the time between 1600 and 1604 sending groups out to explore more of the plains, even leading one expedition himself. He didn't cover any new ground, going only as far as present-day Wichita, but his was the largest expedition to venture out on the plains up to that point, and the first to actually use wagons while crossing the plains.
During the 1700s the Spanish focused on military reconnaissance to counter foreign threats to their territory and opening trade relations with their neighbors. The last Spanish military group to venture onto the plains was led by Facundo Melgares who went in search of the increasing number of American merchants intruding into Mexican territory looking for trading opportunities. At one point during his travels, Melgares even left 240 of his men camped along the Arkansas River a few miles southwest of present-day Larned.
By 1821, Mexico gained its independence and Spain's influence on the North American continent came to an end. As is always the case in history, though, the decline of one nation usually leads to the rise of another. Spain's exit from North America opened the way for the newly formed United States to eventually settle the vast plains region.