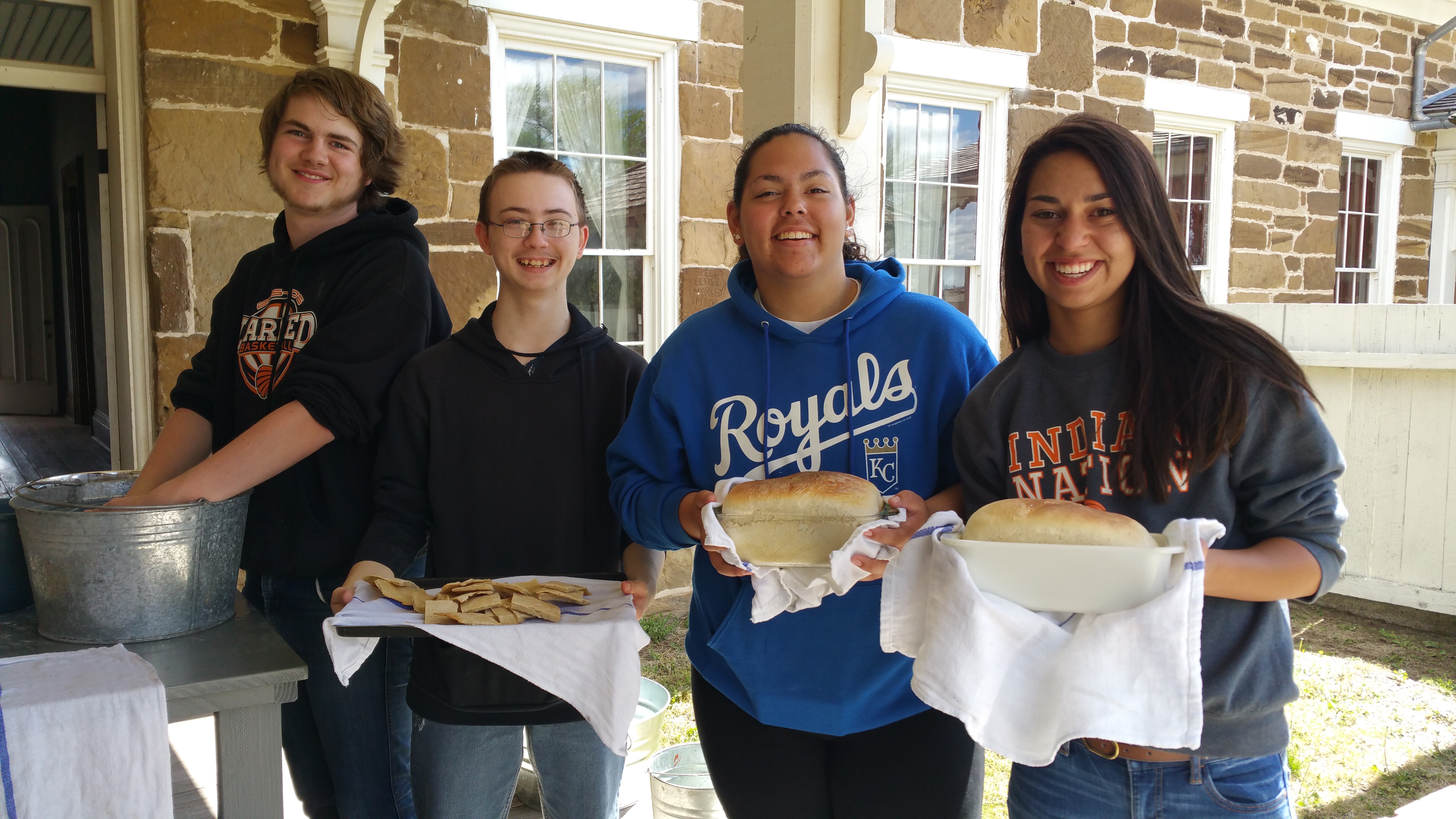 News Release Date:
April 22, 2016
Contact: Ellen Jones, 620-285-6911
Students Bake Bread at Fort Larned for National Park Week Event
National parks all across the nation planned special events and programs during National Park Week, April 16 –24. The goal was to bring about awareness that the National Park Service is celebrating its Centennial and kicking off a second century of stewardship. 
The staff of Fort Larned National Historic Site couldn't have asked for a better crowd to join in the celebration than Larned High School students in the "Adopt a Class" program. The fort had a wonderful aroma wafting through the air on Thursday. Ten loaves of homemade bread and four sheets of hardtack were baked by the hands of 25 students from classes taught by Mrs. Johnson and Mrs. Morse.The students also churned butter to melt on the freshly baked yeast bread. The cast iron stoves, complete with ovens, are from the 1800's era.There wasn't a burned loaf of the ten – all came out perfectly and were delicious. The students did a great job! While the bread dough was rising there were several talks related to stewardship and the importance of preserving the fort's resources. The students also had the opportunity to enjoy the perfect weather by walking around the parade ground and the nature trail.
Governor Brownback recently announced a proclamation for National Park Week at Kansas' national parks stating, "This year is the perfect time to return to the parks you love or discover adventures in new places."  Every day is a great day to visit a national park. The staff at Fort Larned NHS wants the students at Larned High School and every Kansan to be aware of what our nation's national parks have to offer. We encourage all to find a connection with the vast network of public lands and places that protect and preserve our natural and cultural heritage.