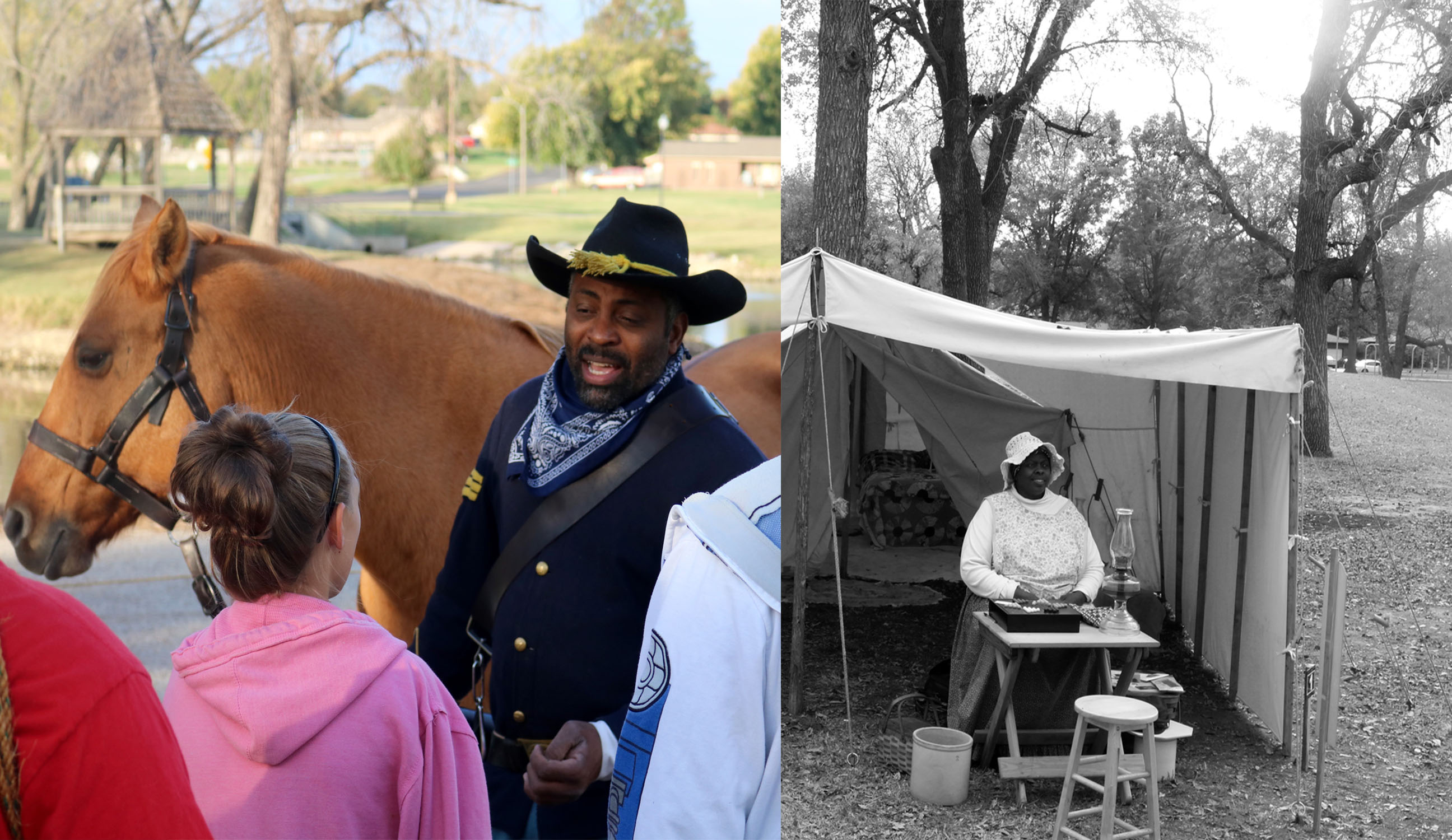 News Release Date:
March 23, 2017
Contact: Superintendent, 620-285-6911
Larned, KS –
  Fort Larned National Historic Site is pleased to announce the upcoming special event,
 Buffalo Soldiers at Fort Larned
 on 
Saturday, April 8
 from 
9:00 a.m. to 4:00 p.m.
Fort Larned National Historic Site
 – Fort Larned's first 150
th
 Anniversary Buffalo Soldier Commemoration Event is coming up on April 8. Join Buffalo Soldier re-enactor Jay Clark for a Buffalo Soldier encampment from 
9:00 am to 4:00 pm
. Jay will have camp equipment, horses, and cavalry gear to help bring the life a frontier cavalryman to life. Jay will give two formal talks at 11:00 am and 3:00 pm and be available in between to talk about his work as a living historian and the history of the Buffalo Soldiers. Jay's sister Esther Clark will also join him as a company laundress.
Buffalo Soldiers were an important part of the U.S. Army's frontier fighting force, whose main job was protecting settlements and travelers throughout the western frontier and enforcing the U.S. government's Indian policy. This was hard work carried out mostly on lonely Army outposts located far from the more settled areas of the country. All the units were segregated, although the African American had white officers.  
At Fort Larned, the men of Co. A, 10th U.S. Cavalry arrived at the post 150 years ago this April. The men came mostly from Missouri, Kansas, and a few northeastern cities. While stationed at Fort Larned, the men of Co. A took part in the normal routine of a frontier post, including work details and guard duty, as well as grooming their horses and practicing cavalry drills. The troopers also took their turn at patrolling the area around the fort and fought against Indians twice in 1868. In the first encounter, they assisted Fort Dodge by pursuing "...a large party of Indians from that post fifteen miles to Mulberry Creek, killing three." In December of that same year, Indians attacked a supply train bound for Fort Dodge at Little Cow Creek and drove off the cattle. Twenty troopers from Co. A rode 14 miles to Little Cow Creek, recaptured the cattle and escorted the train to safety. Thirteen men suffered frostbite in this action due to the severe winter weather at the time.  
Laundresses were an important part of all Army units in the 1800s. Though not soldiers, they were considered officially part of the army, receiving quarters, firewood and daily food rations from the Army. In the 1860s Army regulations allowed for five laundresses per each 100 man company, or roughly one laundress per 20 soldiers. Their pay of about $40 a month came from payroll deductions from each soldier for which they were responsible. In keeping with the segregated nature of the units at the time, African American women were recruited for the job of company laundresses for all the Buffalo Soldier units.
Fort Larned National Historic Site is located six miles west of Larned on Kansas Highway 156. Information on visiting is on the internet at 
www.nps.gov/fols
, or by calling 620-285-6911, or email to 
e-mail us
. For information on area tourism partners, lodging, dining, and community services go to 
www.larnedks.org
, or call 620-285-6916.