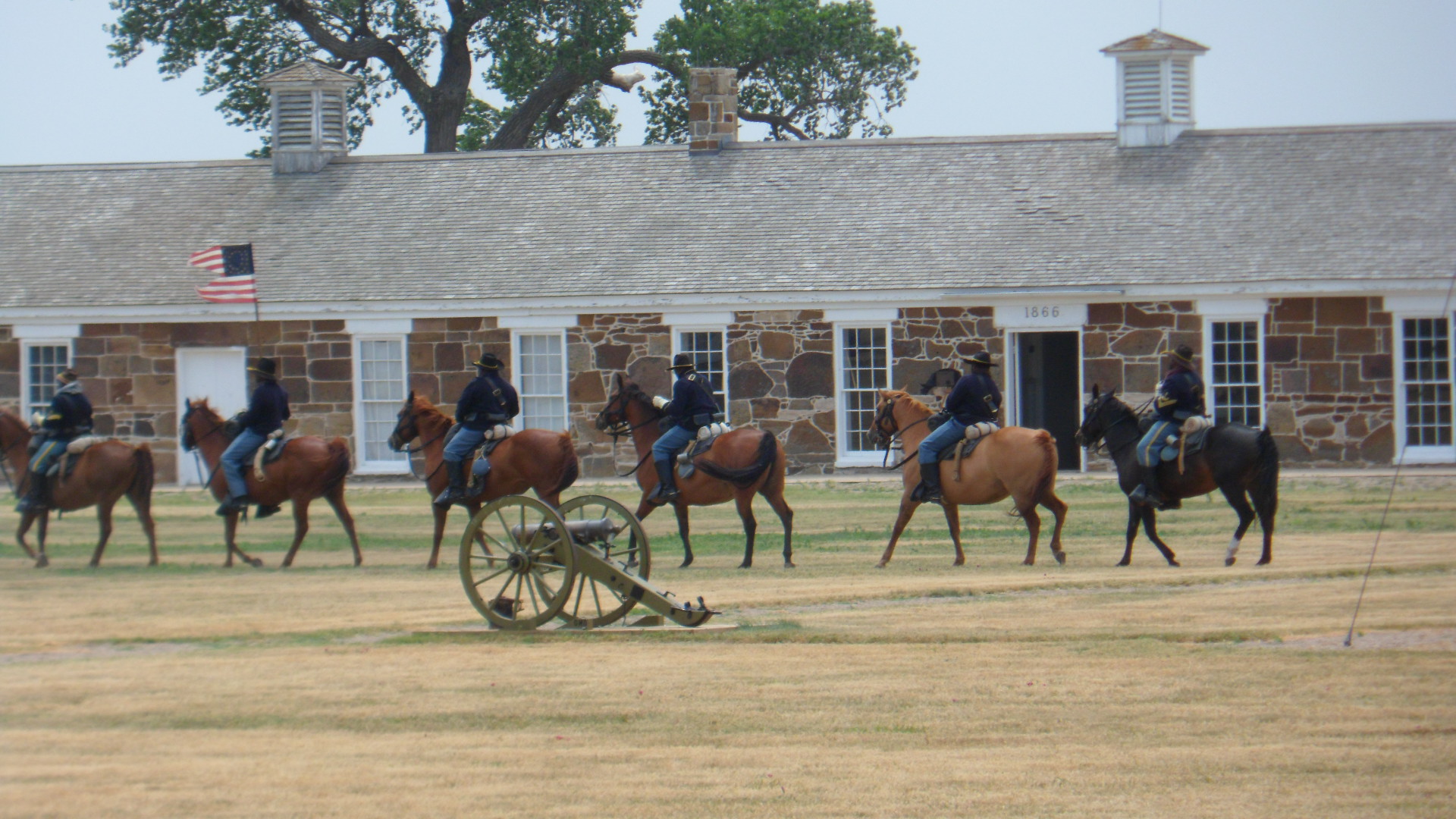 News Release Date:
March 7, 2017
Contact: Visitor Center, 620-285-6911
This year Fort Larned National Historic Site joins other historic sites and parks to commemorate the 150th anniversary of the Buffalo Soldier in the U.S. Army.  These famed units of African American soldiers demonstrated qualities of valor and courage throughout their military history.  In return, they sought equality, respect, self-sufficiency, education - and adventure.  The public is invited to join in celebrating this proud 150-year history by attending programs and events throughout the year dedicated to honoring the Buffalo Soldiers' significant legacy.  Stay tuned for announcements on upcoming events.  
In 1866 Congress restructured the Army after downsizing the huge forces raised to fight the Civil War.  Recognizing the significant contribution African American men made to the war effort, they authorized the creation of six new regiments in the regular Army to be comprised solely of African American soldiers.  Because many black men lacked social and economic opportunities after the war, many jumped at the chance for a career in the U.S. Army.  The new units were reduced to four and included the 9th and 10th Cavalry and the 24th and 25th Infantry.  During the 19th century, these regiments served in the Indian Wars on the Great Plains and across the West.  Some of these men even went on to become the first caretakers of our national parks.  Many lived to see the day when the ranks were integrated in 1948.  
This year also marks the 150th anniversary of the arrival of the newly formed Company A of the 10th U.S. Cavalry to Fort Larned.  The unit consisted of 98 enlisted men.  Only one could read and write, but their commander, Capt. Nicholas Nolan, was impressed with their devotion to duty, hard work, and eagerness to prove themselves in the field.  Their mission here was protecting the people and commerce traveling the Santa Fe Trail.
The name "Buffalo Soldier" conveys a proud history.  Many historians believe that the Cheyenne, Kiowa and Arapaho tribes chose the nickname because the soldiers' hair reminded them of a buffalo's hair.  Others believe it was from bison-like tenacity in battle.  The staff at Fort Larned National Historic Site commemorates the Buffalo Soldiers' 150th anniversary so we can all embrace a symbol of human courage and appreciate a shared heritage.
Fort Larned National Historic Site is located six miles west of Larned on Kansas Highway 156. Information on visiting is on the internet on the
Plan Your Visit
of our website, or by calling 620-285-6911, or email to
e-mail us
. For information on area tourism partners, lodging, dining, and community services go to
www.larnedks.org
or call (620) 285-6916.