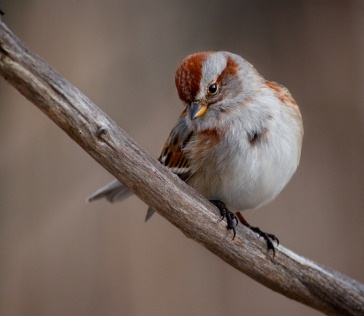 News Release Date:
February 25, 2012
Contact: Fort Larned NHS, 620-285-6911
 Fort Larned National Historic Site is supporting the 2012 Great Backyard Bird Count by offering a nature program and birding hike on Saturday, February 18 from 9 a.m. to 11 a.m. at the fort.Meet a park ranger in the Visitor Center for a presentation on Birds of the Fort, followed by a bird count on the parade ground and surrounding areas including the fort's Nature Trail.
Plan to dress for the weather, wear comfortable shoes, and bring binoculars.Birding is for everyone!Bone up on your bird ID skills by participating in this fun winter activity!
For those not able to attend the program at the fort but are interested in the count visit: www.birdcount.org. You can watch your backyard feeders and keep a list of what you see.Individuals and groups can submit their findings on-line. The official count dates are Friday, February 17 through Monday, February 20, 2012. For more information call 620-285-6911.The 15th Annual Great Backyard Bird Count is sponsored by Audubon, the Cornell Lab of Ornithology, and Canadian partner Bird Studies Canada.
Fort Larned National Historic Site is located six miles west of Larned on Kansas Highway 156.Information on visiting is on the internet at www.nps.gov/fols, or by calling 620-285-6911, or email to fols_superintendent@nps.gov.For information on area tourism partners, lodging, dining, and community services go to www.larnedks.org or call (620) 285-6916.