Boy Scout and Girl Scout Ranger Program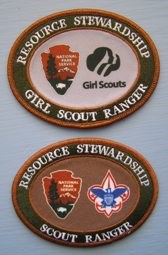 Patch Requirements
1) Take part in organized educational programs or volunteer service projects for a minimum of ten (10) hours at one or more national park sites.
2) Scouts will be awarded a patch upon verbally reporting their completion of the program requirements to an NPS employee or volunteer at a visitor center or information center.
Optional
3) Scouts are encouraged to share their experience by sending an email and photographs to the National Park Service Youth Programs office.
4) Scouts are also encouraged to submit a short narrative to the BSA Good Turn for America website describing their participation and lessons learned.
How to Get Started

Contact Us
and let us know you're interested in working toward the Scout Ranger patch at Fort Larned National Historic Site. We'll help get you started working toward the award, such as volunteering during one of our
special events
.
Last updated: March 7, 2016