General History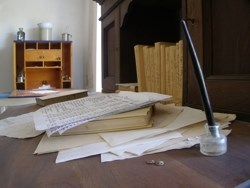 What Indian tribes lived in the area?
The Comanche, Kiowa, Arapaho, and Southern Cheyenne roamed throughout the area around Fort Larned. Pawnee, Sioux, and Plains Apache were also known to be in this area.


Where any famous people ever here?
Yes, there were a number of famous visitors here during the Fort's history. Some of these people include George Armstrong Custer, Winfield Scott Hancock, H.M. Stanley, Buffalo Bill Cody, Kit Carson, Ned Wynkoop, and Philip Sheridan.


Was the Fort ever attacked by Indians?
No. However, the Kiowa once managed to steal 172 horses from the post. In another incident, a sentry shot a Cheyenne man who did not halt when ordered. For the most part, the fort deterred attack. The fort supported military operations in the area, such as escorting traffic on the Santa Fe Trail, when necessary.


Where was the Santa Fe Trail in relation to the Fort?
The Wet Route of the Santa Fe Trail was a few miles to the south. The Dry Route came directly around the north or south side of Fort Larned, depending where the wagons crossed the Pawnee Fork. As you enter the site today, you cross the historic location of the Santa Fe Trail.


Where were Camp on Pawnee Fork and Camp Alert?
Camp on Pawnee Fork was the official name of the camp located approximately 2 ½ miles east of this site along the Pawnee Creek. When the post was located at this site, it was first known as Camp Alert, and then later, the name was changed to Fort Larned.


Why was this site selected for the fort?
In general, the site was selected for its proximity to the Santa Fe Trail and its distance relative to other forts in Kansas. Specifically, this fort was sited along the Pawnee Fork for its easy access to water. Some thought that the creek gave a natural defense on three sides of the Fort.
Last updated: April 18, 2016