Fort Larned's Buildings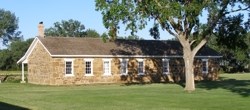 Are these the original buildings?
Yes, the nine buildings around the parade ground are the original buildings, retaining significant portions of their original construction. Significant restoration work has also been done to protect the buildings and to return them to historic conditions. The blockhouse in the corner is the only building that has been entirely reconstructed.
When were these buildings built?
The remaining original buildings were started in 1866 and finished in 1868. Buildings built out of other materials at the fort before and after these structures have not survived.
Where did all this graffiti come from?
The vast majority of the graffiti you see on the stone buildings is from visitors who came to the Fort when it was privately owned. There are very rare instances where soldiers carved in the rock. Today, defacing the buildings is prohibited by law.
Where did they get the stone to build the Fort?
Most of the stone was quarried about 3 miles east of here, near what is called Lookout or Jenkins Hill, in quarries now on private land.
Was there ever a wall or a stockade around the Fort?
No. Timber was scarce, making the construction of a stockade impractical. It was also thought that the Pawnee Fork on two sides and its muddy oxbow on a third provided reasonable protection against a direct assault.
Why is there an empty space between the shops building and the new commissary?
That vacant space intended for a new guardhouse. The foundation was laid, but the building was never completed. The blockhouse was used as a guardhouse instead.
Why are there gun slits only on one side of the two buildings on the south side of the parade ground?
Military planners presumed an attack would come from the open field on the south side of the fort and so concentrated the defenses in that direction. The third building with rifle slits, the blockhouse, provided 360 degrees of protection.
What was the purpose of the blockhouse?
The blockhouse was built for defense, but when it proved to be unnecessary, it was converted into the guardhouse, or jail.
Where were the stables? Records indicate that the stables were south of the Old Commissary building.
How thick are the walls? The thickness of the walls vary from 2 to 2 ½ feet.
Last updated: April 10, 2015