The garden is looking good (except for the corn!). The peas have been bountiful this year, but unfortunately the hot weather will end the harvest. We are starting to pull the cabbage plants and plan to use cabbage in some cooking demonstrations at the fort. The next vegetable we plan to harvest will be the beets. Some of these will be available for visitors to take home to taste; others will become "pickled beets" in cooking demonstrations in July.
It's the end of radish and spinach season. We have left some of these plants to bloom to attract beneficial insects. As the blooms fade, the plants will be removed from the garden.
Beneficial insects include the Ladybird Beetle, the Hover Fly, Green Lacewings, Praying Mantises, and Parasitic Wasps. These insects feed on, parasitize, or destroy harmful insects, and are attracted to gardens by the tiny flowers of plants such as dill, yarrow, turnips, radish, coriander, and oregano. By providing radish flowers early in the summer, turnip flowers later in the season, and including oregano with other herbs we are growing, we hope to attract these useful insects.
The bush beans should be providing us with beans soon; the pole beans are off to a good start and are beginning to climb the bean poles.
The two plantings of corn have been a total loss this year. It is late to try a third planting, but we decided to go ahead and plant some Bloody Butcher corn, a variety that dates back to 1845. This third planting has been covered with a mulch of hay to keep moisture in the soil; with enough rain and watering we may still harvest some corn!!
Tomato plants are blooming, and have several green tomatoes; we are anxious for them to ripen! The first tomatoes to ripen will be the small yellow pear-shape tomatoes; this variety continues producing until frost. Called "Yellow Pear-Shaped Tomato" and also "Yellow Fig-Tomato" by Fearing Burr Jr., it was described in his 1863 publication as "little used except for preserving and pickling".
1
Mr. Burr evidently didn't snack on this delicious sweet tomato while working in the garden as we do! Another tomato variety we are growing is the Large Red Tomato—also described by Fearing Burr. "Fruit sometimes smooth, often irregular, flattened, more or less ribbed; size large, but varied much by soil and cultivation,…"
1
He further commented: "Not early, but one of the most productive of all the varieties;…"
1
"From the time of the introduction of the Tomato to its general use in this country, the Large Red was almost the only kind cultivated, or even commonly known.
1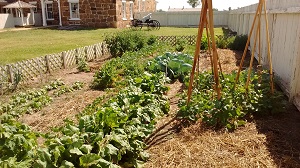 With the spinach and radish crops finished, we now had space to plant the acorn squash. This is a winter squash and last year was very successful. The plants produced numerous squash from September until mid-October—many visitors were given a squash to take home! We planted the seeds a little later this year than in 2016, but we are hoping for a large crop of acorn squash this Fall.
We are glad that the "worm and a bug" that visited the 1870 garden did not visit our 2017 garden!  
1
Fearing Burr, Jr. (1863) The Field And Garden Vegetables of America, publ. Boston: Crosby and Nichols.
The ravages of a worm and a bug that appeared toward the end of June continued and completely destroyed the lettuce and beet leaves in the garden and did some mischief to the other plants. Beans and turnips however were gathered and with adequate care the gardens might have been made much more productive."

Assistant Surgeon A. A. Woodhull, July 1870