The Petticoat Garden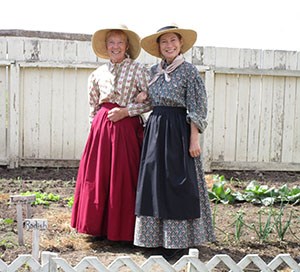 About This Blog
Gardens on frontier army posts were an important way for the people at the forts to get much needed fresh vegetables. However, gardening on the hot summer plains of Kansas had its challenges! For several years now we've had a historic garden to recreate the efforts of those stationed at Fort Larned who struggled to plant and grow vegetables here. Learn all about what it takes to grow a historic 19th century garden.
This year's garden will start with a less ambitious cool-weather vegetables to save room for the warm weather veggies.
Late summer rain, and a park landscaping project presented some challenges to the close of the 2017 Fort Larned Post Garden.
The temperamental Kansas weather made gardening difficult this summer. Rain and cool weather when it wasn't needed combined with hot, dry days played havoc with all the vegetables. Still, we were able to get a fair harvest from this year's garden.
The vegetables are coming out of the garden by the basket full now.
The hard work of spring and early summer have paid off as the harvesting begins.
Fort Larned rabbits won't be snacking on the garden plants this year. Radishes, tomatoes, beets and turnips are growing well, but the cold, wet weather did in the corn plants.
A mid-April hail storm damaged some plants, but others are growing well.
Cold weather in late April gave us some concern but the plants made it through and are thriving. It looks like 2017 will be another great year for the Petticoat Garden.
We've planted our seeds and put the "bunny fence" back up.
Last updated: May 15, 2017