Annual "Old Fashioned" Fourth of July Celebration
Date & Time

07/04/2018 9:30 AM to 5:15 PM

Fee Information

Free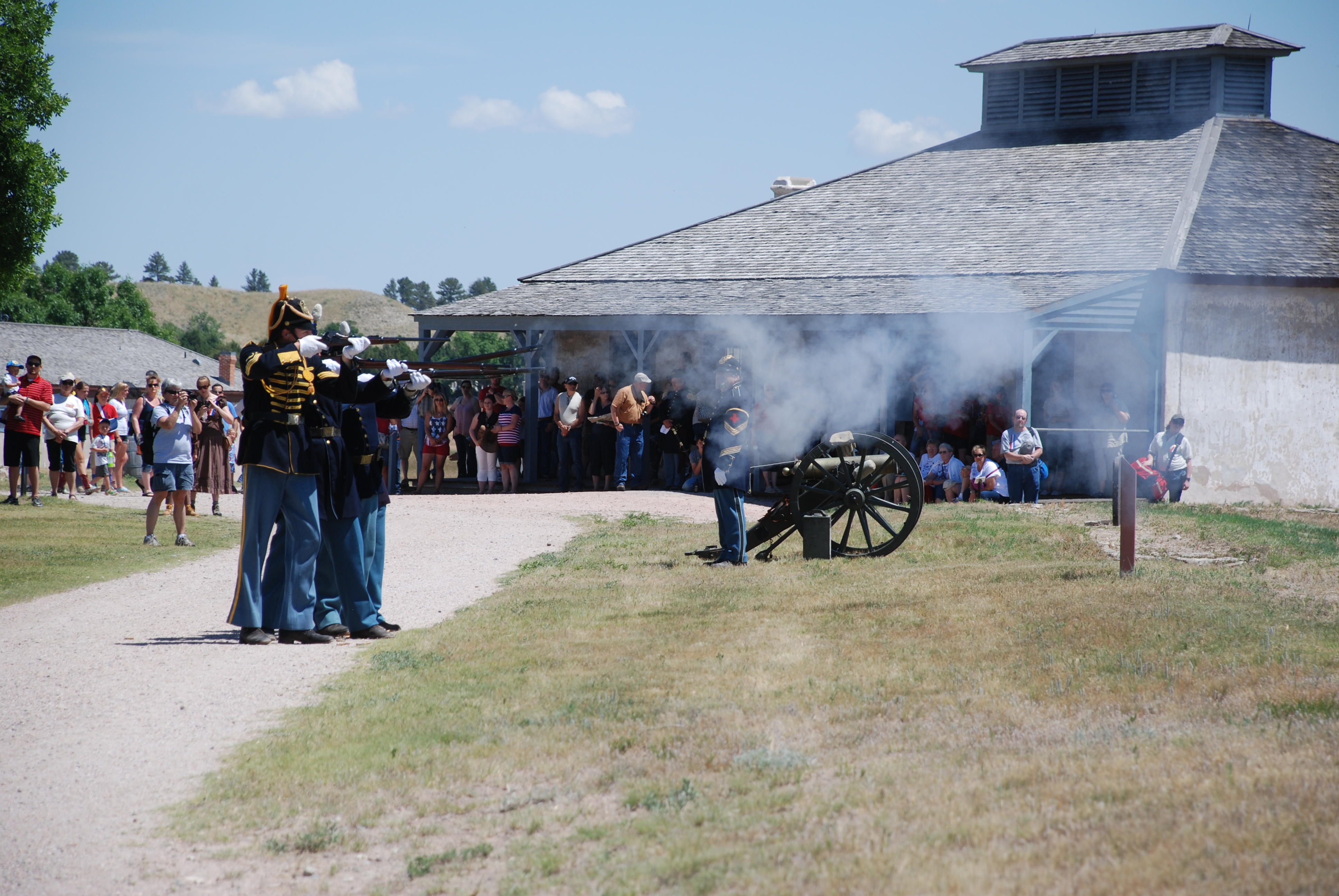 Fort Laramie National Historic Site will celebrate Independence Day in genuine frontier style. Old fashioned games, Native American warrior program, a 38-gun salute, an equestrian drill team, Living History demonstrations, a fiddle concert by "The Merchant Family", Junior Soldiers Drill, and flag retreat ceremony will make Fort Laramie the place to be on Independence Day. The fort invites the public to bring their friends and families, and plan to have a fun-filled day. Admission to the park on the Fourth of July - and every day - is free.
For many years, Fort Laramie NHS has been a traditional part of Independence Day activities in southeast Wyoming. As in years past, the day will be packed with events and offer something for everyone. The observance this year begins on July 4, at 9:30am with a military flag-raising ceremony and cannon-firing.
The popular Old-Time Children's Games will begin on the parade ground in front of "Old Bedlam" at 10:00am. Sack races, pole climbing, egg tossing, foot races, and more will challenge youngsters of all ages. All participants will receive a ribbon and first, second, and third place prizes will be awarded for each event and age group.

At 11:00am the Wyoming Pipes and Drums Corps will perform a bagpipe program followed at noon, when a 38-gun salute will be presented at the flagpole, including the firing of the park`s 12-pound Mountain Howitzer. The bagpipe and drum corps will lead the procession.  

At 12:30pm The Merchant Family will perform a fiddle concert showcasing 19th century emmigrant and military music.  This special concert will be held at the bleechers north of the visitor center. 

At 2:00 pm the Pony Express Association will present a special program at the artillery demonstration area north of the visitor center. 

The Trotters equestrian drill team will perform at 3:00 PM. Once again, the sights and sounds of 19th century horse-mounted drill will be seen and heard on the historic parade ground.  The Trotters will be followed by and encore performance by the Merchant Family.
Kids ages 7-12 are invited to gather on the parade ground at 4:30 PM for "Junior Soldier Drill," where they will be schooled in marching and drill just as the soldiers of Fort Laramie were 150 years ago.
The day will end with a "final bang" as park staff recreates an 1876 period retreat parade and cannon firing for the lowering of our national colors at 5:15 PM.
Michael "Bad Hand" Terry, a well-known Plains Indian Warrior living historian, will be available throughout the day and will informal presentations on the culture and warrior traditions of the Northern Plains Tribes. Mr. Terry will also set up his Lakota warrior lodge for visitors to inspect in the south picnic area.

Throughout the day, park visitors can visit a variety of living history stations, including the Post Trader's Store, laundress area, and 1876 bakery. Free samples of army bread will be given out in the bakery.
Food service, provided by the Fort Laramie Historical Association will be available during the event. The 1883 Soldiers Bar will also be open selling root beer, sarsaparilla, crème soda, and birch beer.
Join us for an old-fashioned, event-filled day of family fun and activities! For the latest information about Fort Laramie National Historic Site's programs and events call (307) 837-2221.
---
Location:

Fort Laramie National Historic Site | Map



Time:

9:30 AM to 5:15 PM



Fee Information:

Free