Bookstore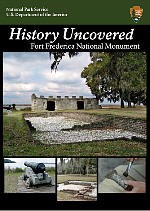 Park Film DVD!
Fort Frederica: History Uncovered
$19.95 (Produced in 2005)
DVD of park film, tells the story of Frederica's history and archeology.
22:55 minutes, Stereo, Closed Captioning & Audio Description
The First Families of Frederica
$1.00
J.T. Scott.
Biographical sketches of Frederica's residents. Organized by house lot numbers. Information from primary resources.
FortMose
$14.95
Kathleen Deagan & Darcie MacMahon.
FortMose in Spanish Florida was a beacon of hope for Africans enslaved in the British colonies. Mose's soldiers served against Oglethorpe's troops in 1740 and 1742.
Frederica: Colonial Fort and Town
$7.00
Trevor R. Reese.
Overview of the history of Frederica and early colonial Georgia. Dr. Reese used archives in England and Georgia for this book.
Muskets, Knives, and Bloody Marshes
$11.00Judson J. Conner.
Looking past the myths about the battles on St.SimonsIsland in 1742, Col. Conner, ret., exposes the true battles of Gully Hole Creek and Bloody Marsh. Relies upon official 18th century reports.
A Relation or Journal of a Late Expedition to the Gates of St. Augustine
$5.00Edward Kimber.
Account of Oglethorpe's second expedition against Spanish St. Augustine. This reprint of the original 1744 journal is hand bound.
A Voyage to Georgia
$6.00Francis Moore.
Reprint of Francis Moore's 1744 journal. Moore provides insight from the perspective of one of the first residents of Frederica.
---
Complete Book List
Printable Order Form
Toys & Games
---


Last updated: April 14, 2015