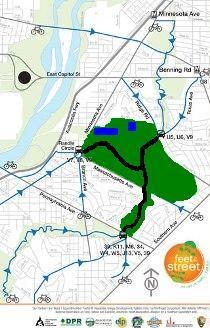 Public Transit
To get to the event please consider using public transit. The map on the left indicates metro stations and bus stops as well as parking available for the event (displayed in blue).
The closest Metro stations are the Minnesota Avenue, Benning Road and the Anacostia metro stations. At each station you can take a metro bus to the Park's entrance. However, only Minnesota and Anacostia stations offer buses with direct access to the main entrance of the Park.
The D.C. Department of Transportation's Capital Bike share program offers 10 bikes at each metro station on the day of the event. Once you arrive at Fort Dupont Park you can drop the bikes off at the Randle Circle entrance of the Park where DDOT employees will hold the bikes until you are ready to leave.
For information on each metro station please view the Washington Metro Area Transit Authority website. Additionally, click here to view information and maps of DDOT's Bike share program.
Alternatively, visitors can hike the Hiker/Biker trail 3 miles south to Fort Dupont Park, starting at Fort Mahan Park (adjacent to the Minnesota Metro station), or walk 1.5 miles along Texas Avenue S.E. from the Benning Road metro station. For more information on the Hiker/Biker trail please click here and review the "Trails Forever" brochure.
The Anacostia metro station is also 2 miles south of the Park. Walk north along Minnesota Avenue to Randle Circle (the south entrance of the Park).
For parking, enter at the "F" Street location and park along the road on the grass lawn. Or park at the Ice Skate Rink off of Ely Place. Available parking is displayed by the blue squares on the map.