Brochures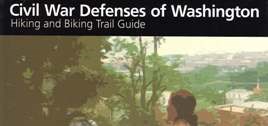 NEW!!
Civil War Defenses of Washington Trails
In 2010, with support and funding from the Connect Trails to Parks program and the Potomac Heritage National Scenic Trail, the NPS worked with Arlington County, the City of Alexandria, Fairfax County and the Washington Area Bicyclist Association to identify and map self-guided hiking and bicycling routes connecting fort sites in DC, MD and VA. These connecting routes are the modern interpretation of a vision first articulated in the early 1900s to create connecting parkways or paths to help link and preserve the Civil War fortifications.
Learn More
For more detailed mapping of trails connecting NPS-managed forts use the printer-friendly segment maps below. These self-guided trails are not marked on the ground and use existing trails and sidewalks. Please use caution when following these routes.
NPS Trail Segment Maps (8 1/2" x 11")
Fort Marcy to American University
American University to Fort Totten
Minnesota Ave. to Fort Stanton
The Trails Forever brochure shows all the trails in Greenbelt Park, Kenilworth Aquatic Gardens, Oxon Cove Park and the Hiker Biker Trail in Southeast Washington, D.C. The front page of the brochure gives visitors a reference for each trail's length and easy of use.
Last updated: July 27, 2018