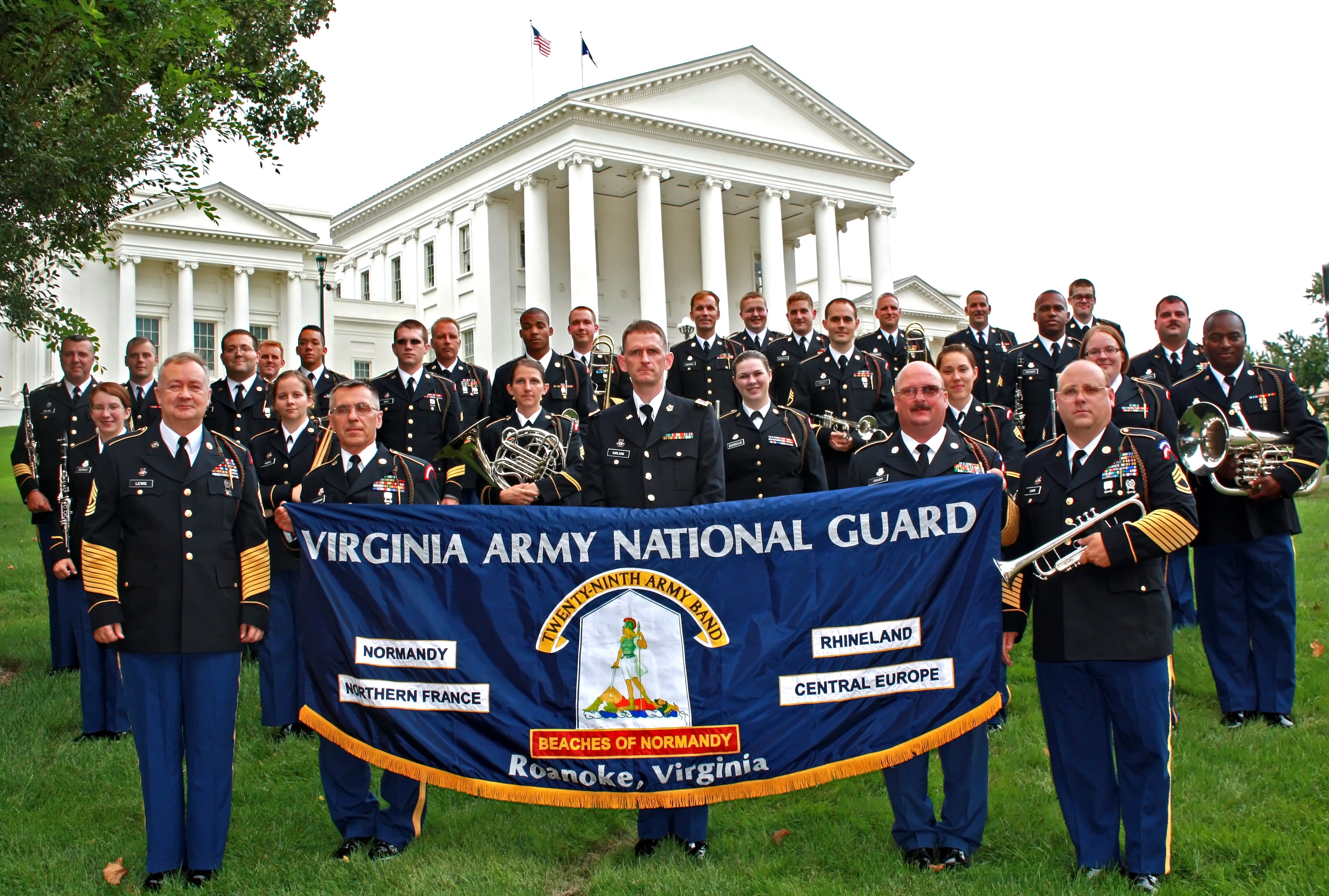 News Release Date:
June 17, 2011
Contact: Douglas J. Richardson, (931)232-5706, ext. 108
The Virginia National Guard's 29th Infantry Division Band to Perform at Fort Donelson.
 The Virginia National Guard's 29th Division Band from Petersburg, Virginia will perform in a free public concert at the Fort Donelson Visitor Center on Sunday, June 26, 2011 at 2 PM. Free parking is available and everyone is invited to bring their lawn chairs or sit in the bleachers in the amphitheater for an afternoon of patriotic and military band music.   
           The 38 members of the 29th Division Band represent many vocational and professional activities. They are bound together with a common bond of service through their musical talents and abilities.
           The 29th Division Band has a proud heritage which extends back to 1922 and has served the Commonwealth of Virginia and the nation with distinction during those years.
           The Band originated in Roanoke as a section of the 116th Infantry Brigade's Service Company. But in October 1943, it was inducted into federal service as part of the "Blue and Gray" 29th Division (so called because it included National Guard units from Maryland (Union Blue) and Virginia (Confederate Gray)) along with other National Guard bands from Virginia and Maryland. Band members joined in the assault on Omaha Beach, an action for which they received the French Croix de Guerre with Palm. In all, they saw action in four European campaigns: Normandy, Northern France, the Rhineland, and Central Europe.
  In 1946, the 29th was inactivated. Its Virginia segment became the 90th Division Band, the "Governor's Own", a title which it retained until October 1985. That year, it once again put on the Blue and Gray patch, this time as the Band for the only Light Infantry Division in the entire U.S. Army National Guard.
          Present-day missions take Band members all over (and sometimes outside) the Commonwealth of Virginia. They perform in concert, marching band, and small ensembles for military and civilian functions alike, with a repertoire that ranges from the classics to pop music to Broadway and motion picture hits. The Band's most recent foreign assignments were in Bosnia-Herzegovina in support of Stabilization Force 10 in 2002, and the 60th Anniversary of Day in Normandy, France in 2004. The band received its present designation as the 29th Division Band in 2005. In 2007, the Band held its Annual Training at Fort Sill, OK and this year is conducting a Mobilization Readiness Exercise at Fort Campbell as a supplement to the 101st Airborne Division Band as they retrain and reset from their recent deployment to Afghanistan.
           The Band travels extensively throughout Virginia serving the soldiers and citizens of the Commonwealth by performing an average of over 35 performances each year.
           Besides being accomplished musicians, the members are trained and qualified soldiers of the U.S. Army. --