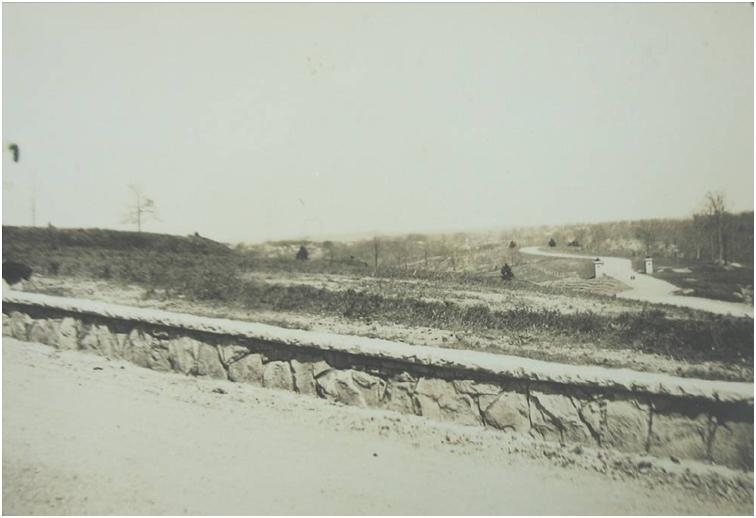 News Release Date:
June 15, 2011
Contact: Michael Manning, Chief Ranger, (931)232-5348, ext. 108
 Columns are under construction at the entrance to Grave's Battery Road. The new columns restore the appearance to the original War Department landscape design of the early 20th century. A new gate has also been installed adjacent to the columns at Fort Donelson National Battlefield at the Graves' Battery area, which is stop number seven on the park's interpretive automobile tour route.
Graves' Battery (from Kentucky) was a six gun Confederate six gun battery that was intended to guard the Indian Creek valley. The battery became part of an engagement with Union troops on February 13, 1862 as Union troops approached the Confederate left as part of the Union attempt to surround Fort Donelson. During the Confederate attempt to create an escape route towards Nashville on February 15, 1862, this battery became a significant part of this effort, moving to the Wynn's Ferry Road area.
The recently installed gate is intended to help protect this special land during the hours when park personnel are not available to patrol the area. Steven McCoy, Superintendent of Fort Donelson National Battlefield says, "The Park feels a tremendous obligation to protect these special lands entrusted to us by the American people, so that those who visit the park in the future have the same sense of awe and wonder that we do today."
The new gate at Graves' Battery will be opened by park staff by 8:00 AM each morning for vehicle traffic, and will be closed at 8:00 PM during the summer season.