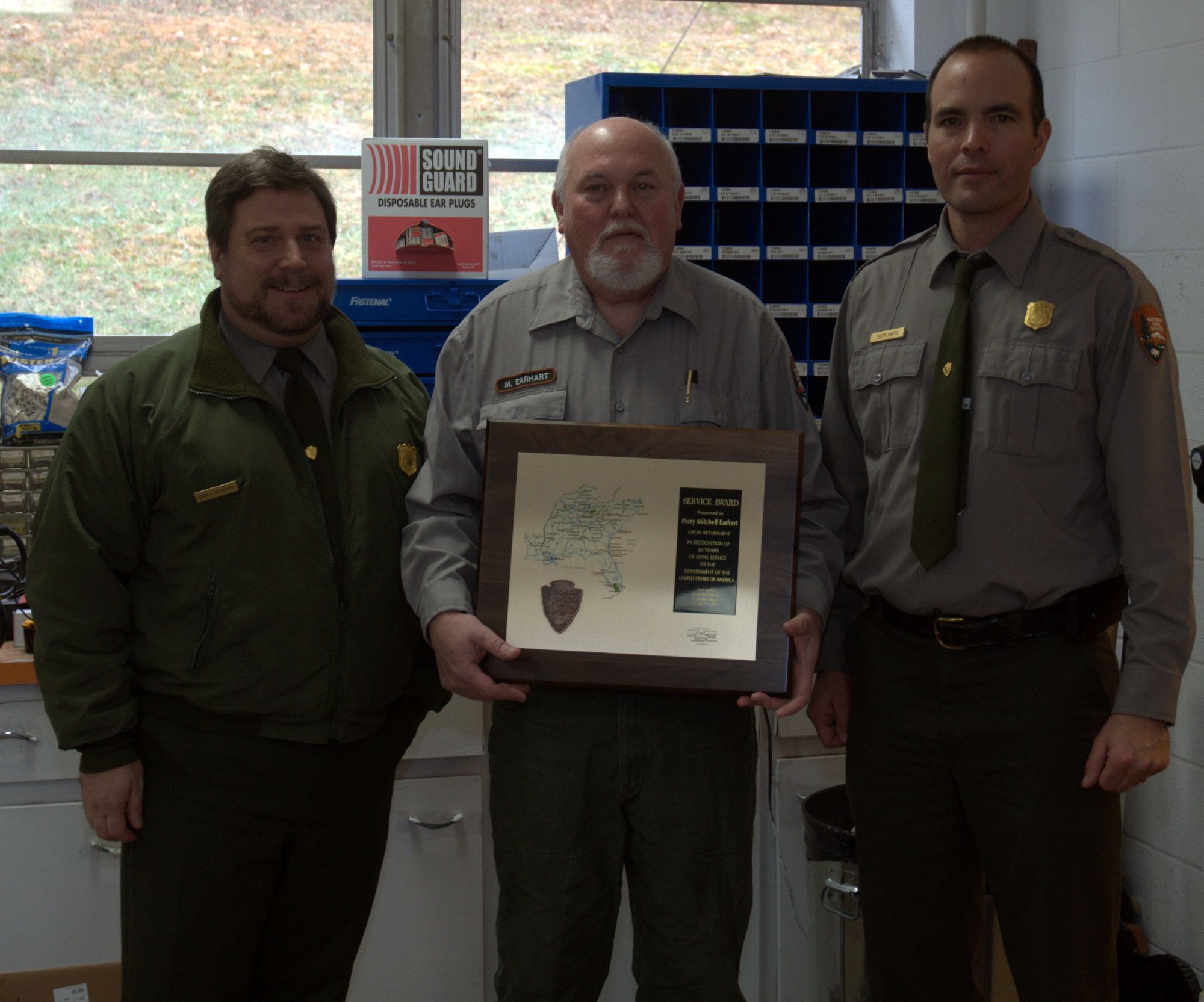 News Release Date:
January 17, 2014
Contact: Douglas Richardson, (931)232-5706, ext. 108
After thirty years with the National Park Service, Mitchell Earhart retired from the Fort Donelson National Battlefield on January 9.
Earhart began his career at the national park as a Park Aid, soon being promoted to that of National Park Ranger, where he interpreted the resources of the battlefield, its stories, and of the national significance of the 1862 engagement and campaign.
Desiring to work more outdoors, Earhart transferred to the Facilities Division in 1990, working under the titles of Motor Vehicle Operator and Maintenance Worker. In that capacity, he worked with his colleagues on the hands-on care and preservation of the now one thousand-plus acre battlefield park, and its many historic resources.

A graduate of the National Park System's lauded Preservation and Skills Training academy, the preservation legacy that Earhart has left behind includes the various historic monuments, earthworks, stone walls, and buildings, of which he worked with his colleagues on numerous projects. Earhart's structural contribution to the battlefield included construction of the many stone entrance pilasters, entry signage and the pavilion adjacent to the park's Visitor Center. Earhart also was active in the preservation and masonry-related needs of other national park units. His last resource projects were reconstruction of the long-absent national cemetery cannon monument and tuck-pointing of the national cemetery wall.
In addition to the care and preservation of the battlefield, Earhart has long been active in wildland fire operations of the park service. Starting as a fire fighter, he worked his way up, becoming an experienced and well-respected dispatcher on fires across the nation.
According to Facility Manager Scott Mapes, "Mitchell has contributed a great deal to the preservation and care of the Fort Donelson battlefield. With his retirement, he will be missed by all of us who have been blessed to work with him over the years." A similar view was shared by Superintendent Brian McCutchen, "Mitchell's mastering of preservation excellence has reached far outside of the national park. His welcoming personality and dedication to the preservation of the Fort Donelson story and the resources left behind will certainly be missed." 
"Working in the park was a dream come true for me. As a child, I lived in the park and felt like the park was my back yard. I am very thankful for the opportunities, training, traveling and friendships that I have received by working for the National Park Service," stated the now retired Mitchell Earhart.
Anyone wishing to send letters or emails to wish Mitchell Earhart well may do so by sending correspondence to: Fort Donelson National Battlefield, PO Box 434, Dover, TN 37058.