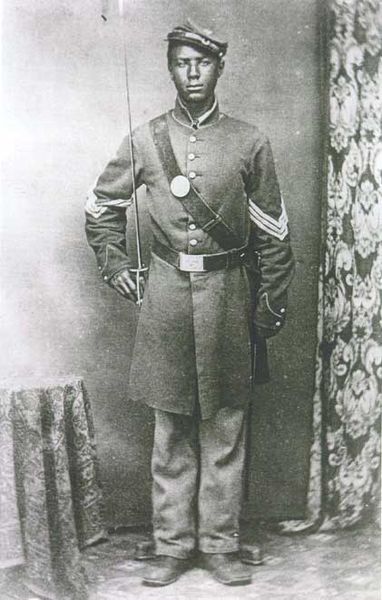 News Release Date:
January 20, 2014
Contact: Douglas Richardson, (931)232-5706, ext. 108
As part of the park's commemoration of the 1862 Campaign for Forts Heiman, Henry and Donelson, and as part of the park's successful partnership with the Calloway County Public Library, Fort Donelson and the Library will be offering a special free program highlighting the life of Andrew Jackson Smith on Thursday, February 6, 2014, 6:00 PM, at the Calloway County Public Library.
During the Civil War, Kentuckian Andrew Jackson Smith escaped slavery to fight for his freedom. His bravery in battle earned him the Medal of Honor.Yet, it wasn't until 2001, more than 136 years after the act of "extraordinary valor in the face of deadly enemy fire," that the prestigious recognition was posthumously awarded. Seventeen African Americans were awarded the Medal of Honor for their participation in the Civil War. Smith was the only recipient from the Commonwealth of Kentucky.
The February 6 program will be offered on the 152nd anniversary of the Battle of Fort Henry, which was one of the first Union victories of the American Civil War, and will be presented by Berry Craig, Professor Emeritus of History at West Kentucky Community and Technical College. This program is funded in part by the Kentucky Humanities Council, Inc., and the National Endowment for the Humanities and is free and open to the public.
The Calloway County Library is located at 710 Main Street in Murray, Kentucky.