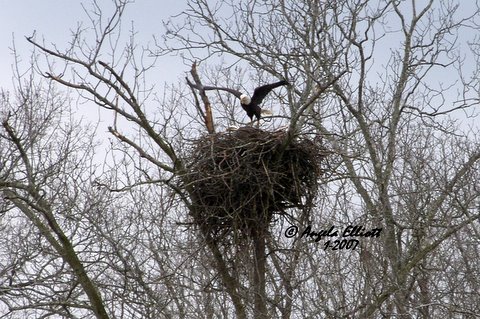 News Release Date:
February 11, 2007
Contact: Visitor Center, 931-232 5706 ext 0
Fort Donelson Eagles Return
Fort Donelson's resident pair of eagles returned to nest again this year. The pair has been observed working on and improving their nest over the past several months increasing both size and depth. The enormity creates an almost impenetrable barrier making it almost impossible to view them while sitting on the nest. The park staff and community continue their vigilant watch and remain on guard.
In 2006 three eaglets were born and fledged for a total of five over the past two years. Many visitors witnessed their arrival, growth, and youthful antics. The 2006 triplets remained in the fort area for several months as their parents taught them to fly, feed and fend for themselves. 
Once again the Eagle Watch has begun as many of our local watchers and photographers are keeping a running update on their status. 
Fort Donelson has posted the primary zone, the most critical area immediately around the nest, to promote optimum conditions for the eagles. Many Federal and State Acts and laws provide legal protection to the bald eagle. Violators of the Acts and or regulations may be fined from $500.00 to $20,000.00 or imprisoned 6 months to 2 years or both.
Superintendent McCoy has posted the nesting area and request that we all help to protect the National Emblem.