Date:
March 29, 2012
Contact:
Douglas J. Richardson
, (931)232-5706, ext. 108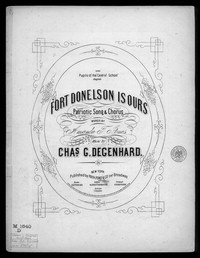 Fort Donelson NB Announces April, 2012, Events
Dover, Tennessee: Fort Donelson National Battlefield is pleased to announce a series of special programs and learning opportunities for visitors of all ages. All are free and open to the public.
     Saturday, April 14, 2012, 2PM, park visitor center:
The Cumberland Winds will be performing a beautiful concert filled with Civil War themed pieces, featuring words and music in tribute to the 150th anniversary of the Battle of Shiloh. Visitors may bring a chair or a blanket.
                                Saturday, April 21, 2012, 11AM, park visitor center:         

The Paris Special School District, Inman Middle School Band, will offer their spring concert here, featuring Civil War themed tunes, premiering a song written shortly after the 1862 Battle of Fort Donelson called "Fort Donelson is Ours!"      It's Junior Ranger Day!
*In case of inclement weather, program will be held inside the Dover Elementary School gymnasium. Dover Elementary School is located on Highway 79, almost across the street from the Fort Donelson visitor center.

                                  Saturday, April 21, 2012, 1PM, park visitor center:
Learn more about butterflies, their habitats, and how they affect our lives during a special natural resource hands-on activity. Supplies are limited, so please call (931)232-5706, ext. 109, to register.
                                  Thursday, April 26, 2012, 6PM, park visitor center:
The Fort Donelson monthly book discussion series continues, with the spotlight this month on Shelby Foote's masterful 1952 novel Shiloh. Some free copies of the book are available for participants. (Also held Sunday, April 29, 3PM, Calloway County Public Library, Murray, KY).
About the National Park Service. More than 20,000 National Park Service employees care for America's 397 national parks and work with communities across the nation to help preserve local history and create close-to-home recreational opportunities. Learn more at www.nps.gov.